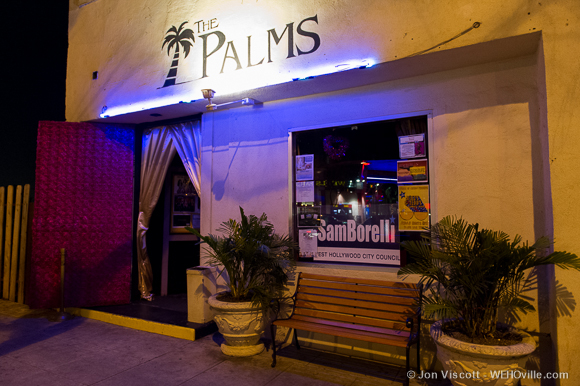 West Hollywood's Palms bar, the oldest continually running lesbian bar in Southern California, has announced it will close its doors Sunday, June 9 after the annual gay pride parade and festival.
As West Hollywood's only lesbian bar, The Palms, at 8572 Santa Monica Boulevard across from the Ramada Plaza, has served as a center for the lesbian community for over 40 years. News of the closure in late April saddened many WeHo residents, and even prompted one local filmmaker to begin shooting a documentary on the bar.
"This bar has been so important in history," said Palms general manager Shawne White, who worked at the bar in various roles for the last 25 years. "This bar was the only safe haven at one point for women to come and be around other women. It's just a huge part of history. It's really sad to see it go."
Shortly after the Palms closes, the building will be demolished. Property owner Michael Talla, who owns the entire block on the south side of Santa Monica Boulevard between West Knoll and Westbourne drives, plans to combine the Palms with the adjacent vacant lot (site of the old Athletic Club) to erect a four-story building with 19 residential units and 8,700 square feet of retail.
"We've been waiting for 10 years for the certified letter telling us to get out in 30 days," said White, who hopes to relocate the bar, but hasn't found a new space. "Even though we knew it would eventually come, it was still a shock when it came."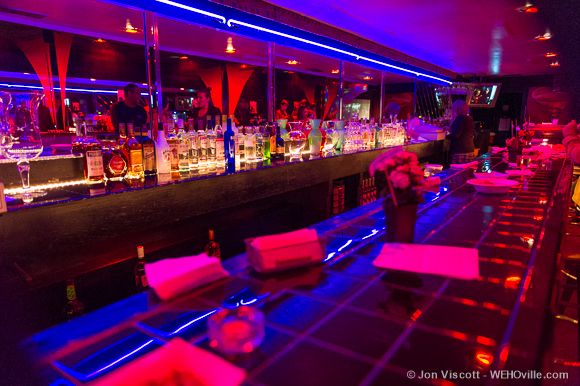 While the Palms was successful throughout the 1970s, 80s and early 90s, business dropped off about 15 years ago as more options opened up for lesbians.
"Women come in now, look around and say, 'I haven't been here in 15 years, what happened?'" said employee Rita White who often works the door. "We'd say, 'Well, you haven't been here in 15 years.'"
To compensate, the Palms started doing transgender nights on Mondays and Fridays and comedy several other nights of the week. The Palms has been on a month-to-month lease for almost a decade. Owner John Laccetti said he has been "dreading the day" he would receive official notice to vacate the premises.
The Palms plans to hold an official closing party on Sunday, June 2.
WeHo resident and filmmaker Kate Eggert has been interviewing people about their memories of the bar for a documentary, and plans to do more interviews from May 10-12.
"It is imperative to document the stories of this place and these women before the epicenter that is the Palms bar disappears forever," said Eggert, who met her best friend at the bar. "The documentary is a work in progress. It's about how this building became a lesbian bar. And as a lesbian bar, how its existence influenced and shaped the lives of the women who went there, which will illuminate what it was like to be a lesbian in Los Angeles throughout the last several decades."
The long, narrow building housing the Palms dates back to 1930. Various retail establishments operated there until 1953 when it became The Palms Restaurant and Cocktail Lounge, according to Eggert.
While the bar initially attracted gay and lesbian patrons, it wasn't officially a lesbian bar until 1965, when Butch Gottlieb and Jack Froman (owners of the Four-Star bar, which ultimately became Micky's) bought the property.
For a long time, locals described the bar as being "militantly lesbian" (meaning lesbians only). It was known for attracting a sophisticated clientele.
Gay historian Lillian Faderman, who along with Stuart Timmons wrote the book "Gay L. A.: A History of Sexual Outlaws, Power Politics and Lipstick Lesbians," said it was the most glamorous lesbian bar she'd ever seen.
"Everyone looked like a Hollywood starlet. Everyone was so glamorous," Faderman said. "Many of the women were wearing blond wigs. It was such a contrast to the working class bars I knew."
A 1992 bar review in "Lesbian News" read, "The Palms on weekends isn't for chatting; it's for seeing and being seen."
Plenty of celebrities passed through the doors, including Ellen DeGeneres, Portia de Rossi, Melissa Etheridge and k.d. lang. Legend has it that a young Jodie Foster was kicked out for being underage. In the late 1980s, actress Kristy McNichol was at the Palms weekly, asking the DJ to play 70s music.
Doors frontman Jim Morrison reportedly always made the Palms his first stop after a day in a nearby recording studio. Rockers Janis Joplin and Jimi Hendrix were also regulars when they were in town to record an album.
However, resident Margaret Smith recalled a different side to the Palms.
"It was very friendly. You could strike up a conversation with people," said Smith. "There was always a down-home, community feeling about the Palms."
Despite the "militantly lesbian" reputation, some men did frequent the bar, often coming with lesbian friends. The Palms served as a safe haven for young men who weren't yet comfortable with their sexual orientation.
"I can't tell you how many men have come in that door, sitting there for months having a drink, trying to get up the courage to go to the bars further down the street," White said.
On Sundays, the Palms attracted huge crowds by selling 50-cent beer and grilling hamburgers and hotdogs on the back patio. Noise complaints from neighbors eventually put an end to the weekly beer blasts.
"The love I have for the bar, the staff and the customers is tremendous," said White. "I love watching people have a good time, enjoying themselves, dancing. Getting to do it seven nights, it's a party 365 days of the year and you're the host."
For a look at LA's earliest lesbian bars, click

here

.