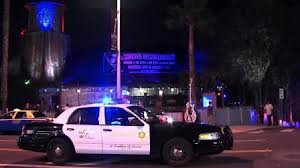 Two West Hollywood sheriff's deputies were shaken but not hurt Monday morning when their cruiser was rear-ended by a suspected DUI driver while they were stopped on Santa Monica Boulevard checking the ID of a jaywalker, authorities said.
The deputies were at Santa Monica Boulevard and Orange Drive, a block and a half outside West Hollywood, checking the identification of a jaywalker who was "also someone we needed to chat with," when a silver sedan rear-ended their cruiser at 1:45 a.m., according to officials at the Los Angeles County sheriff's West Hollywood Station.
"The driver of the car was arrested for DUI," said sheriff's Sgt. Enrique Mandujan, describing her as a woman in her late 20s. The sedan was moving at 25 to 30 miles per hour, so both cars sustained moderate damage, he said.
Both deputies were sitting in the cruiser when it was struck, but no one appears to have been injured, Mandujan said.