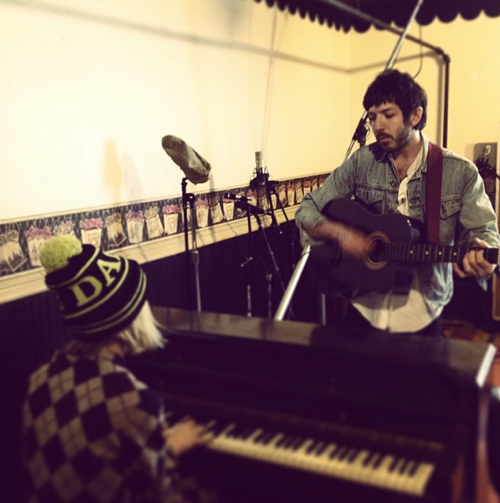 The Ex Cops are a Brooklyn-based pop-psychedelic five-piece band founded by singer/guitarist Ryan Harding and singer/keyboardist Amalie Bruun.
The duo met in 2011 and have been producing "sun-kissed harmonies" ever since. Since meeting, they've formed a full band, adding an additional guitarist, bassist and drummer.
Currently, Harding and Bruun are on the road performing numbers from their first full-length album "True Hallucinations," which is a soothing mix of pop, trippy melodies and soft harmonies, recalling a kind of past paradise.
They come to the Troubadour on Wednesday.
[hr_dotted]
Question: How did the band form?
Answer: "We met backstage at a concert. I don't remember what concert it was, I've gone through various bands," said Harding.
"We started to record last year," said Bruun. "Before that, Brian and I would just do acoustic shows, just getting to know each other."
"It was never our goal to be a two-piece, we've done this for so long, we knew we wanted a full band behind us," said Harding.
Q: Tell us about "True Hallucinations."
A: "The new album is about living in New York and about addiction. Definitely riding on the Subway in NYC is a big inspiration," said Bruun.
"It's about cars and chewing gum," joked Harding. "We also recorded it with our producer John Siket (who has produced Sonic Youth, Blonde Redhead and Yo La Tengo). We recorded it at our space on the lower east side."
Q: Which bands most influence your sound?
A: "Sonic Youth, The Pixies, Massive Attack and Michael Jackson; except our bass player, he hates Michael Jackson" said Bruun.
"We like De La Soul's first record a lot," said Harding.
Q: How has the tour been going?
A; "We're touring with a band called Bleached (an L.A.-based group fronted by sisters Jessica and Jennifer Clavin). They are awesome people. We're about five shows deep," said Harding.
"It's totally great to tour with women. It's a softer energy. Last night the bass player braided my hair. I really like that," said Bruun.
Q: How's life on the road?
A: "We're having a challenge right now trying to find food that's edible and not going to make me feel like hot garbage the next day. We are at a gas station right now where half the band is eating," said Harding.
"We just got through Canada's border and I had to pee for like five hours. There was talk of an R.V. but I vetoed it," said Bruun.
How do you pass the time and expand your minds on the road?
"We like to smoke and we read a lot of books. I'm trying to finish 'Master and Margarita' because I hear you'll be cursed if you don't finish it," said Bruun.
"Right now, I'm reading a great book by Marc Spitz called 'Poseur.' It's all about NYC in the '90s," said Harding.
Q: And what about playing in WeHo?
A: "We're excited. We love L.A. and we're going to shoot a music video for our next single 'Spring Break (Birthday Song)' while we're there. It's a breezy kind of song. I'm hoping we can shoot on the beach," said Bruun.
"We're actually in California for almost two weeks," said Harding. "We are also playing a free show on [May] the 13th at Bardot [Hollywood]."