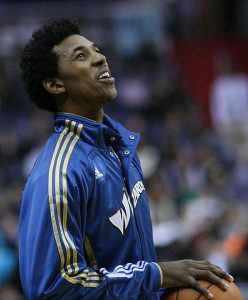 A woman filed a lawsuit today against Philadelphia 76er player Nick Young, alleging he drugged her at a West Hollywood bar and later had non-consensual sex with her.
The woman filed the lawsuit in Los Angeles Superior Court against Young and the Crown Bar. Her allegations range from sexual battery and false imprisonment to intentional infliction of emotional distress and negligence.
She identifies herself in the complaint by Jane Doe and is seeking unspecified damages.
The woman's lawyer, Marvin Wolf, confirmed the NBA player is the defendant in the lawsuit. A representative for the team could not be immediately reached.
The 27-year-old Young is a shooting guard and small forward for the 76ers. He played basketball for Cleveland High School in Reseda.
The drug the woman alleges Young used is Gamma-Hydroxbutyric acid, or GHB, often called the date-rape drug.
According to the complaint, the woman and a friend were at the Crown Bar, which is at 7321 Santa Monica Blvd. near  Greenacre Avenue, on Aug. 12, 2011, when Young approached both and offered them drinks. The plaintiff knew Young from two prior meetings, the suit states.
"Plaintiff accepted and consumed a champagne beverage that had been offered to her by … Young," who paid for the drink with a credit card, according to the suit.
The woman does not remember what happened after drinking the beverage, but believes she was taken by Young to his apartment, where he had sex with her, according to her court papers.
When the plaintiff awoke and asked Young why the two of them were naked in his apartment, he replied that the two began having sex the previous night but that they stopped after she passed out, according to the suit, which says Young complied when the woman demanded that he take her home.
Subsequent tests confirmed that she was given GHB, according to the suit, which says she also underwent exams at the UCLA Santa Monica Rape Treatment Center that revealed anal and rectal bleeding.
In addition, the woman has undergone psychiatric evaluations and treatment, according to the suit, which alleges that Crown Bar employees failed to provide enough security and to properly monitor the behavior of guests.