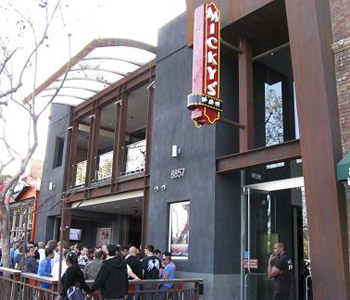 Ahead of an October trial, the lawyer for nine former Micky's employees has gone public about a lawsuit filed against the West Hollywood gay bar in July 2011.
The plaintiffs are charging the popular nightclub, known for its male strippers and go-go dancers, with civil rights violations, which include lewd conduct, creating a sexually hostile work environment, racial discrimination and discrimination against heterosexual employees, and labor code violations.
Matthew Krupnick, the lawyer who filed the lawsuit against West Hollywood Boys Town, Inc. (WHBT), owner of Micky's, provided WEHOville photographic evidence of strippers performing in the nude, strippers openly displaying their penises and masturbating in front of patrons, a stripper walking around with semen on his face and chest, a patron using his finger to penetrate a stripper's butt, a ring toss game involving a man's penis and employees pouring shots of liquor down a stripper's back while a patron licked it from the stripper's butt.
The civil rights complaint filed under California's Fair Employment and Housing Act (FEHA) contends that employees were forced to work in a sexually hostile environment because hardcore gay pornography played on big-screen TVs throughout the club during working hours. One of the plaintiffs alleges that his roommate was featured in a porn video.
"No one should be required to work in an environment with this going on all around them," said Krupnick, an employment and personal injury attorney. "As a gay man who fights for the rights of LGBT people, to see gays in a position of such authority and ability abusing that authority and ability in the way the club is doing is offensive to me. I'm motivated to ensure this never happens again in our town."
Micky's did not return requests for comment.
The bar also is under state investigation for 14 counts of lewd conduct and two counts of giving away alcoholic beverages, according to the California Department of Alcoholic Beverage Control (ABC).
The nine plaintiffs – all male, five gay and four straight – worked as bartenders, a security guard and a manager. Two female employees were also initially involved in the suit before dropping out.
Krupnick reports that the straight employees were forced out of their jobs at Micky's because management didn't like having heterosexual employees. According to Krupnick, they were told when they started they'd be fine as long as they kept their heterosexuality a secret.
One black employee and one bi-racial employee, both gay, say they were fired because Micky's owner Michael Niemeyer, didn't want African-Americans working there. One employee was accused of stealing and exhibiting a "West Hollywood attitude," according to the lawsuit.
The alleged labor code violations include employees not being given the state-required meal and 10-minute breaks during an eight-hour shift and management falsifying time cards and wrongful termination.
This is not the first lawsuit involving labor code violations filed against Micky's. Since 2000, the bar has been sued 11 times (not including the current case). Eight of the lawsuits were dismissed. In two, the judges did not award the plaintiff's any money. In one, Micky's had to pay a promoter $1,082.
"What differs about this lawsuit is the quantity of people," said Krupnick who added that all of the plaintiffs approached him about representation.
The lawsuit was initially filed as two separate cases (the four straight employees had a separate suit). Krupnick said Micky's filed a motion in January 2012 to consolidate the two lawsuits into one.
Another motion to transfer the case from downtown Los Angeles to Santa Monica was denied. Judge Elizabeth Allen White will preside over the case, which is expected to last 20 days.
Krupnick said he did enter into private mediation with the plaintiffs, which resulted in a settlement offer of less than $100,000.
"My clients respectfully declined that offer," said Krupnick, who believes the case could carry a $15 million verdict, if not higher, depending on the punitive damages the jury awards.
According to Krupnick, the jury will decide on each case individually, meaning each plaintiff could be awarded a different amount if Micky's is found liable.
"It's not OK what's happening there," said Krupnick. "The lewd conduct is still going on down there. You can walk by and see it happening from the sidewalk. Why aren't people talking about what's going on at Micky's?"
A longtime fixture on the West Hollywood gay club scene, Micky's closed in August 2007 after an electrical fire. A rebuilt two-story Micky's reopened in April 2009. That year, the Micky's entry in the annual gay pride parade was go-go dancers riding on a fire truck with an accompanying banner reading "Flaming Gay Bar."