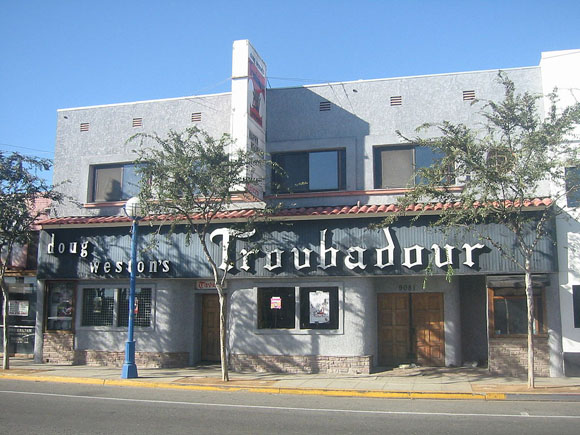 In April and May, West Hollywood's iconic club the Troubadour hosted some of music's biggest names.
First, legend Rod Stewart offered a free show. It was a rare intimate performance; a far cry from the sold-out stadiums and arenas he typical plays. The Troubadour reaches capacity between 300 and 400 people.
Later in the week, Depeche Mode — considered by some to be the most successful electronic band ever — performed. Then, it was psychedelic revivalist Robyn Hitchcock's turn.
And finally, in May, heartthrob Tom Jones played two sold-out shows.
For the Troubadour, booking big acts harkens back to the club's early history, beginning with its founder, Doug Weston, a visionary club owner who helped launch some of the biggest names in music and comedy starting in the 1960s. WeHo's landmark club began with a small community of artists performing at open mic nights before developing into an A&R talent farm. When artists were being signed to a label just following a performance at the club, Weston knew he had something special.
"When I met him he was definitely eccentric," said Christine Karayan, daughter of current club owner Ed Karayan. "I think everybody in the music industry is eccentric to a point. He was definitely more flamboyant than the average person of that age. Back in 1957, there was no place for musicians and comedians and people of that sort, who were inclined to congregate, to demonstrate their craft and have a community — so he started The Troubadour."
The Troubadour was a launching pad. It gave rise to some of music and comedy's most influential artists. Weston believed in fostering unknown talent, and then watching it reciprocate in the coming years.
He even added a unique artist agreement called "loyalty contracts," which obligated up and coming acts to return and perform for the same "beginner's fee."
"If they got big, they would come back and do a show," said Karayan.
Weston was also fearless. He booked controversial, even blacklisted, acts, such as Lenny Bruce, who was arrested in 1961 for using the then-obscenity "shmuck" on-stage.
"Back then you couldn't say the things you can say now," said Karayan. "Even though it was a First Amendment scenario, it didn't hold up. I believe he got handcuffed on stage."
Throughout the 1960s, Weston continued to introduce new talent, showcasing acts like The Byrds (who met at the club's Monday open mic night), Buffalo Springfield, Joni Mitchell, Neil Young (as a solo artist) and James Taylor, as well as legendary comics, including Richard Pryor and Steve Martin.
"It was my understanding that a lot of them lived up in Laurel Canyon. They would come down and just hang out, just hoping to get to play and be a part of something bigger," said Karayan. "That's when the 'Monday Night Hootenanny' started. Doug would have them audition and if they had 'it' they got to perform. It became a place where A&R people would go and, literally, sign people right off the stage."
In the 1970s, The Troubadour continued to flourish, hosting performances by Elton John.
"He played his first U.S. shows at the Troubadour, but he didn't hang out here, obviously; he's a British artist," said Karayan.
The decade produced memorable shows by Cat Stevens, Kris Kristofferson, Billy Joel, Van Morrison, The Pointer Sisters, Miles Davis, Leonard Cohen and Bob Dylan. Even Cheech and Chong were discovered at the Troubadour.
In 1974, troublemakers John Lennon and Harry Nilsson were ejected for heckling The Smothers Brothers.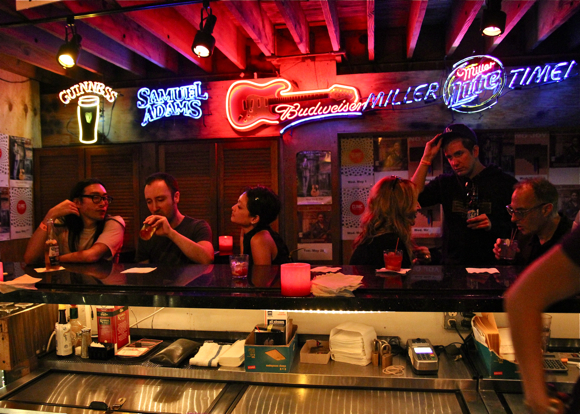 "Unfortunately there's not a lot of old memorabilia from that era to support the stories, I think a lot of it is word of mouth," said Karayan. "Our goal with the Troubadour is to always be perpetuating those memories, whether it's little bands in the corner or the next big thing. There's nothing like a live show. Whatever genre of music you're into, it's always a moment in time."
Eagles fans also have the Troubadour to thank. Glenn Frey and Don Henley, the founding members of the band, met at the venue well before "Hotel California" existed.
"The Eagles never performed at the Troubadour. They did as different bands, but never as the Eagles. They met at our front bar and decided to form," said Karayan.
Mr. "Fire and Rain," James Taylor, was a long-time patron.
"He hung out a lot at the Troubadour," said Karayan. "He lived up the street in Laurel Canyon. He was a regular. I think he got his break when Carly Simon had him sit in with her."
Taylor and Simon later married.
Tom Waits fans also owe a lot to the venue.
"Story goes, he would come to the Hootenanny all the time, begging to get the opportunity, and one day somebody fell out or got sick and Doug said 'Take your guitar up there and play.' He was signed on the spot," said Karayan.
Pithy humorist and so-called "degenerate writer" Charles Bukowski met his future wife, Linda Lee Beighle, at a reading held at the Troubadour in 1976.
"It was a breeding ground for anyone who was creative," said Karayan. "It wasn't a velvet rope scenario. It didn't matter who you were, ultimately you all got treated the same. You can wait like everyone else, and you did wait like everyone else. A&R people, they waited. Doug didn't care."
Weston's unbending management style was partly responsible for the creation of The Roxy Theatre in 1973.
"That attributed to his downfall," said Karayan. "[Elmer Valentine], Lou Adler and David Geffen opened up the Roxy because they had enough of Doug's 'eccentric' ways. Either they didn't feel respected or those contracts made the artists feel like indentured servants. So, they opened a venue to do it their way."
By the early 1980s, Weston had lost his grip on the club. Taking on Ed Karayan as a business partner helped get the venue back in black.
"The glam hair metal phase, that's when I believe the Troubadour lost favor for a little while. The pay to play (period)," said Karayan. "All those early new wave acts, like Duran Duran and The Damned, were playing the Roxy and the Whisky because the Troubadour was stuck in this weird time warp."
Pay to play is a concept where up-and-coming bands pay a venue to let them play live. In another often-used iteration of the concept, the band must pre-sell tickets to its own show to recoup the cost of performing.
Nevertheless, this "weird phase" still fostered many stand-outs. In 1982, Metallica made its headlining debut at the Troubadour. Warrant followed in 1984.
Most notably, Guns N Roses debuted its album "Appetite for Destruction" — the highest-selling debut album of all-time —at the venue in 1985. Less than a year later, GNR returned to perform again. This time David Geffen was in the audience. He signed the group to his record label following the show, and the rest was history.
"Around '92, '93 there was a conscious decision that a change must be made," said Karayan. "Not necessarily returning to its former glory but at least a reputable glory. It was at this point they made a brief alliance with Goldenvoice (a concert promotion and ticket sales corporation), It was a long uphill battle for a long time."
The 1990s saw Pearl Jam, No Doubt, Korn, Elvis Costello and even Radiohead, which played from its album "OK Computer."
"Lance Hubp came on board and he kind of took it and ran with it," said Karayan.
In 1999, Weston, 73, died from pneumonia. That same year, Johnny Cash performed one of his last shows with June Carter at the Troubadour.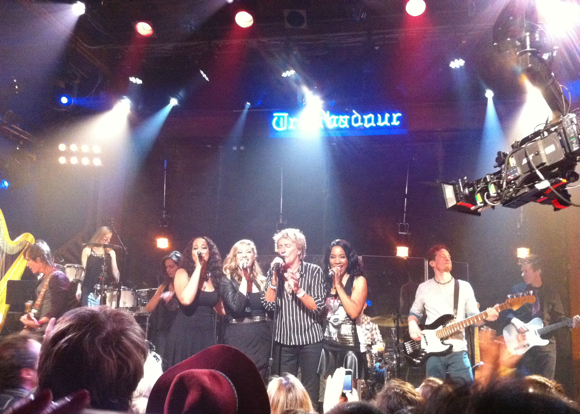 The 2000s brought more unforgettable performances, including The White Stripes, Queens of the Stoned Age, Franz Ferdinand, Coldplay, The Strokes and the Red Hot Chili Peppers. Joe Strummer, co-founder of The Clash, played his final Los Angeles shows on the Troubadour stage.
"Joe Strummer was one of my absolute favorites," said Karayan. "He was the most charismatic person I have ever met. Super down to earth, kind to anyone. Before the shows he asked if he could come to the venue and hang out, just to get the vibe. He would come down, have a drink, meet the fans. He was a genuine human being. When he was on stage, his one request was that all the air must be turned off — the word 'inferno' is an understatement. These guys come to the show straight from the office in suits and ties. They're drenched by the end, high-fiving each other, not one complaint."
There's been no slowing down for WeHo's iconic club in 2013.
Most recently, it was Tom Jones' who took the stage.
"I am a Tom Jones fan but my understanding is that he won't do anything old, just the new album," said Karayan. "I don't know if you've heard the new stuff, it's very dark, very un-Tom Jones, I just wanna hear "She's a Lady" even if it's just at sound check."
Surely the undergarments were flying, as they do at all of Tom's shows.
As for the upcoming summer season, L.A. band PAPA performs with Harriet on Thursday. Torche comes to town May 18, and Glasgow's electropop group Chvrches kicks off the month of June along with Still Corners.
As for big acts, Karayan promised the club has big things planned for the fall.