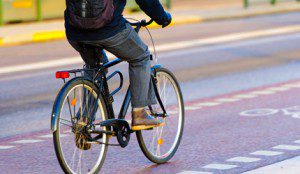 Commuters could see more bicyclists than usual on Southland streets today, including West Hollywood, as people ditch their cars in celebration of Bike to Work Day.
The event is designed to encourage people to use alternate transportation for a day, relying on pedal power instead of gasoline.
Several cities will set up special pit stops for bicyclists, offering free bike checks, drinks and snacks. Bicyclists will also be able to take advantage of free rides on select Metro bus routes.
People who pledge to use Metro as part of their ride to work will be automatically entered in a contest to win a $700 cycling package from REI.
About 60 retailers will be offering discounts to bikers Friday through Sunday. Specific information is available online.
People boarding DASH and Commuter Express buses today with a bicycle helmet will ride for free, though Commuter Express buses have limited rack space for bikes and DASH buses have no racks.
In West Hollywood, Bike to Work, put on by the West Hollywood City Bicycle Coalition and city, features music, food, bike tune-up tips, raffles and a visit from Mayor Abbe Land at the WeHo Bike Hub from 7-11 a.m. The event is free. WeHo Bike Hub is located at 8743 Santa Monica Blvd. and Hancock. More information online.
In Long Beach, Mayor Bob Foster will bike to Cal State Long Beach and visit one of two bicyclist pit stops in the city. Another pit stop will be at Long Beach City Hall, providing coffee, breakfast snacks, giveaways and bicycle check-ups.
Pasadena will have a pit stop behind City Hall on Euclid Avenue, with refreshments, prizes and displays by bicycle vendors.