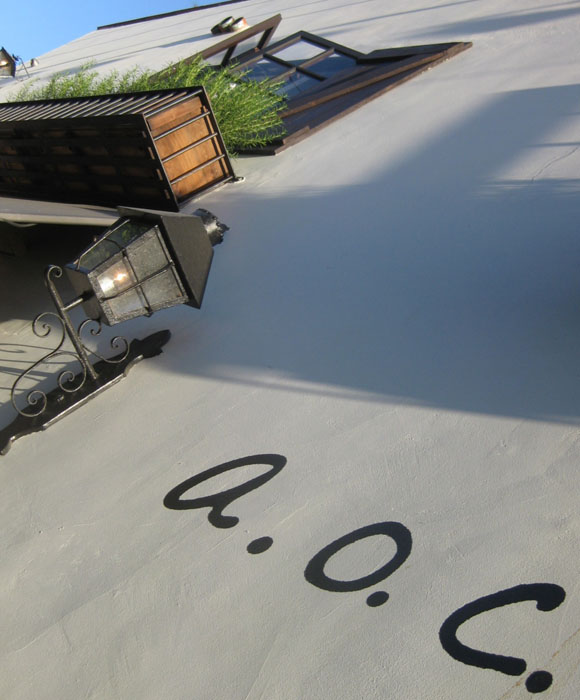 After achieving the longevity so rare among L.A.'s restaurateurs and redefining how L.A. eats, chef Suzanne Goin is taking a quick, deep breath of rarified air before she does it all over again. Her A.O.C. wine bar is entering its second decade with a new look and in a new location on WeHo's doorstep, but the 46-year-old L.A. native and tireless entrepreneur isn't stopping there. Her chain of restaurant/markets called the Larder just opened yet another branch on Burton Way at San Vicente.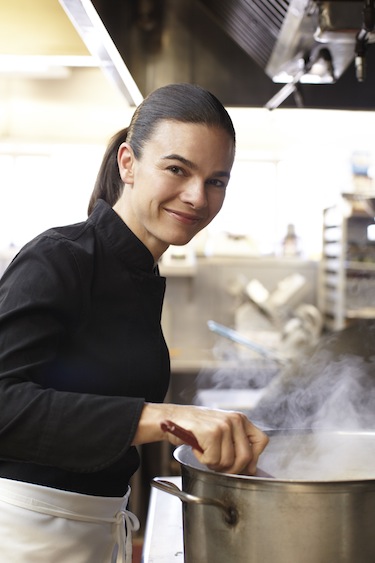 Before I got to my interview with Goin, I grabbed a bite at A.O.C. The venerable wine bar's new digs on 3rd Street and George Burns Drive enticed me (undoubtedly along with more than a few hypocritical cardiologists from the adjacent Cedars-Sinai Medical Center) with its menu of temptations: pates, rillettes and triple-crème cheeses. All of this in the shade of citrus trees in a beautiful European courtyard that once hosted Orso, and more recently, Il Covo.
A.O.C.'s menu is still familiar, sticking to what put it on the map. But it's easy to forget that prior to its opening in 2002, the small plates dining model that has now infiltrated most restaurants, from chains to high-end eateries, was a new concept for L.A.
Chances are, if a restaurant were to serve you a small plate prior to the turn of the new millennium, you would have thought the chef ungenerous, or still mired in the pretentions of nouvelle cuisine. But A.O.C. made us all throw around the word "tapas" and "charcuterie" and rethink what it meant to order dinner. Suddenly, every day could be a picnic in Provence.
During an early April visit, I sat by a gurgling fountain in the restaurant's courtyard and munched on Pork Rillettes, Pickled Onion and Cornichons ($12) – an old A.O.C. stand-by. Rillettes are a more refined version of the more frugal "head cheese" or "souse" (popular in the American South and with the Pennsylvania Dutch) where meat surrounding the skull of a hog is served cold, flavored with vinegar and spices, and then bound into pâté form by natural gelatins.
The French version served here makes use of rendered fat and higher quality meat to create its savory spread. The acidity is provided by slices of marinated red onion scented with fennel. Thick, crispy peasant toast accompanies the dish.  I paired the rillettes with a 2011 Huber Riesling – one of many wines offered by the glass.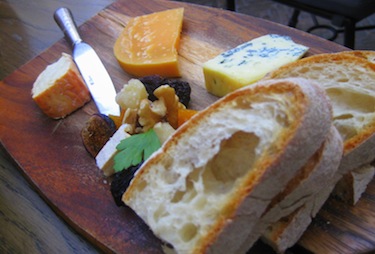 I followed this with a board of three cheeses ($15) and a plate of Spanish Fried Chicken ($13) where a small pile of crispy tenders glistened with the glaze of smoky chili-cumin butter. In a ramekin alongside the chicken, a spicy murk of romesco aioli beckoned the dunking to begin.
All of these dishes were perfect examples of Goin's mastery of the small-plate.
"You started this whole small plate thing, didn't you?" I asked Goin during a recent conversation under the cover of e-mail.
"Thanks for noticing that," she replied, "There were no other small plates places around when A.O.C. opened in 2002. I like to think that imitation is the highest form of flattery."
"Why did A.O.C. move?" I asked.
"We were just approaching our 10 year anniversary and trying to think of a way to really celebrate and also maybe change things up a bit," she said. "Then, sort of out of nowhere, we were offered the opportunity to take over the 8700 West 3rd Street Location, which I always think of as Orso. My business partner Caroline Styne and I have been huge fans of that iconic space since we were teenagers. I always found the patio so magical and transporting. We could not pass it up, but we didn't want to open another restaurant in the area. So it came to us to move A.O.C."
"You spent time in France," I reasoned, "and A.O.C. is a French epithet (meaning Appellation d'Origine Contrôlée – a strict, regional designation given to French wine). So does that make France the origin of L.A.'s small plate culture? Not the Spanish tapa or, say, the Venetian cicchetto?
"The original idea of A.O.C. was that it was a traditional French wine bar," she replied, "but, as a chef I wanted to cook and offer more food. Yet, we wanted to keep the communal and relaxed spirit of family style dining and tasting so we came up with this idea of serving the food in a small-plate format – really more than tapas. The idea was that things were smaller so you could taste and try more dishes instead of being 'married to a veal chop for the whole night' as my partner Caroline likes to say."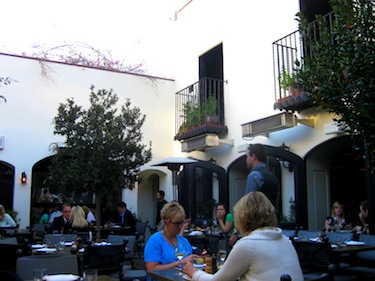 "I'd like to take you back to those early days of A.O.C.," I said. "Was it nerve-wracking at the time to foist such a thing on an uninitiated public?"
"Yes," she admitted. "We were really worried that people would not get it but I have to say the LA dining public was amazing once we explained what we were trying to do. People really embraced it!"
"What Los Angeles chef awes you?", I asked, throwing the curve ball.
"Can I say my husband, David Lentz?" Goin joked. "We have a lot of great ones … I think Michael Cimarusti (Providence) is a magician with fish and Michael Voltaggio (Ink) thinks in ways my mind cannot fathom. And Wolfgang is obviously an amazing chef and businessman …"
"What cuisine do you not fully understand, but would love to someday master?" I asked.
"Indian," she replied. "There are so many different regional cuisines. I find it fascinating, especially all the vegetarian dishes."
Goin (who also brought us Lucques, Tavern and The Hungry Cat) has been frantic as of late. She has just launched the Larder at Burton Way in the foot of developer Rick Caruso's new uber-luxe apartments just down the street from A.O.C.
"What's the Larder going to be like?" I asked.
"It serves a variety of prepared foods as well as made to order salads, sandwiches, burgers and casual meals," she replied. "Also, in keeping with the larder idea, we sell all the spices, grains, olive oils, pastas, honeys, et cetera, that we use in our cooking."
"How big is the Larder chain going to get?"
"I'm not sure really," she said. "I tend to work organically rather than with a master plan – for better or for worse. We are doing one in the Tom Bradley International Terminal at LAX in late summer. That's all we know so far."
I thanked the chef for her time, wished her luck and was left to wonder what L.A.'s dining scene would have been like without her influence. But I decided it best to not think of such things.
8700 W. 3rd Street and George Burns.
(310) 859-9859. http://www.aocwinebar.com