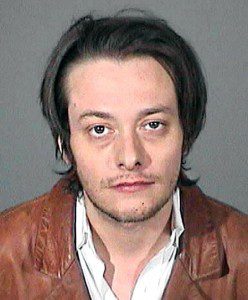 "Terminator 2" actor Edward Furlong was in custody today following his arrest on suspicion of violating a court order involving his former girlfriend, authorities said.
Furlong, 35, was taken into custody Thursday night, according to sheriff's Sgt. Lance Eddins of the West Hollywood Station.
Furlong was booked on a felony about 7:40 p.m., and was being held on $100,000 bail, the sheriff's department reported.
According to TMZ.com, Furlong and his ex-girlfriend had gotten into a "verbal altercation" and she called authorities to report that he was at her West Hollywood home.
Authorities allegedly found Furlong hiding under a stairwell near her residence, the celebrity website reported.
The restraining order was issued against Furlong after he was arrested twice "for roughing up the ex-GF," according to TMZ.com.