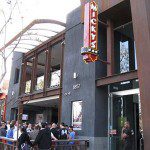 Dear Hank:
I've been reading all the comments about the story on WEHOville about Micky's being sued by some of its employees. Most of those commenters argue that gay men should be able to have sex at gay bars. I'm a straight guy and I've had my share of adventures at stripper bars. But every time I've seen a guy touch a girl's private parts he gets bounced on his a** out the door. So why should things be different for gay men in gay bars?
Randy Dude
[hr_dotted]
Dear Randy:
Let me start by making clear that I don't know the truth about Micky's. It's not my kind of place. I prefer to hang in bars that look like they've been through a fire the night before I get — dark walls, a little dirt on the floor — think Mario Diaz's famous Cock bar on Avenue A in New York City in the 1990s. Or Gold Coast in WeHo.
I should also note that some people would take issue with your description of the alleged activities at Micky's as sex. No less a person than Bill Clinton probably would dispute that. Yes, Monica Lewinski did kneel and place her mouth on his penis. But the judge who presided over Paula Jones' suit against Clinton ruled, in effect, that fellatio isn't sex if the party on the receiving end doesn't actually touch the other party. So while Monica may have knelt down on that carpet with the big eagle in the Oval Office and performed fellatio, apparently Mr. President just stood there, no doubt reading a foreign policy memo.
With all that out of the way, I too have been struck by those commenters who seem to equate freedom for gay men with the right to have sex, or close contact with another person's sexual organs, in a public place. I'm guessing they are older gay guys who lived through a time when it was impossible to hold another man's hand in public, or share a kiss. Sadly, in most of the United States that atmosphere is still the norm.
We're fortunate in West Hollywood, where today it's wonderfully acceptable for LGBT couples to express themselves romantically in public. Hold hands, give a kiss. No one cares, and many passersby smile in appreciation. (By the way, did I mention that I'm single?) And while it's true that the core definition of homosexuality is sexual attraction to someone of the same gender, most of us gay guys and lesbians define our "queerness" more broadly. There is the sexual attraction, but there's also the shared cultural interests and some degree of pride in our difference. For those commenters who are looking for sex, there are private venues in Los Angeles that don't serve liquor and aren't accessible to anyone stumbling in off the street, as are the gay bars in West Hollywood. GayCities.com lists 10 of them.
Also, if you believe City Councilmember John Duran's recent panicked statement about the possibility of meningitis at what he called our city's "gay orgies," there must be plenty of places in WeHo to get your gay on in private. We can't find a web link to those, but you can always call the council member's office at City Hall and ask.
Gaily yours,
Hank
Questions you can't bring yourself to ask your gay friends and neighbors? Send them to Henry@WEHOville.com.