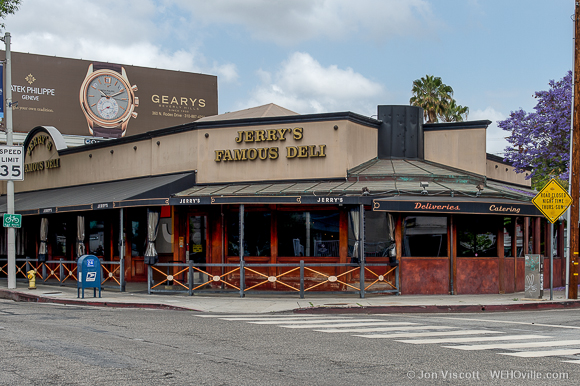 After nearly 20 years of doing business in West Hollywood, Jerry's Famous Deli quietly shut its doors on Sunday.
While fans of the popular deli, known for its huge menu, may be dismayed, a company official said Jerry's is looking to come back to WeHo as a market/restaurant concept, and will start searching for a new space in 2014.
"We want to be back in the area. We will be," said Ami Saffron, executive vice president of Jerry's Famous Deli.
The company, which owns five Jerry's Delis in Southern California, and another in Miami, also owns two Epicure Markets in Florida. Currently, a third market is underway in Coral Gables, Fla.
"We looked at ourselves and said 'Wow, this market thing is really something people like. We should bring it to West Hollywood,'" said Saffron, who added that the company plans to finish the Coral Gables market before turning its attention back to WeHo.
The Miami Beach market, a Florida staple since 1945, offers a mix of up-scale groceries, fresh produce, meats, fine wines, teas and specialty foods.
According to Saffron, the current deli space was too small for the market, which calls for 20,000 to 25,000 square feet, but too big at 10,000 square feet to continue as only a deli.
"In the worst-case scenario, we could see ourselves opening up just a Jerry's with something along the lines of 4 or 5,000 square feet," said Saffron.
For West Hollywood residents, currently the closest Jerry's Delis are in Westwood and Marina Del Rey.
In 1978, the first Jerry's Deli opened in Studio City, capitalizing on its location next to major television and film studios. After a decade of business in the Valley, Jerry's expanded with a number of new restaurants in the 1990s.
The WeHo Jerry's opened across the street from the Beverly Center and Cedars-Sinai Medical Center in January 1994.