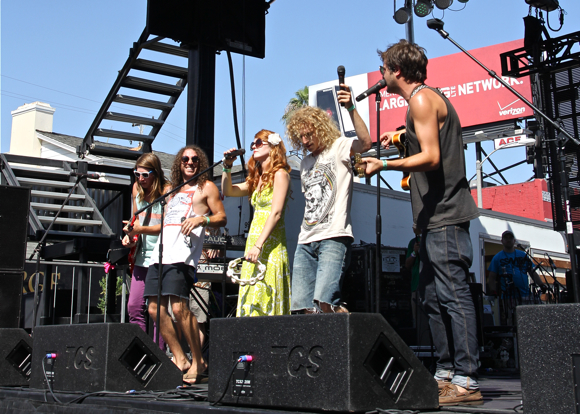 This week, we're keeping it light with the Mowgli's, a band that is, without a doubt, the most positive group in L.A.
All of their songs spread a message of love and joy, so feel good about seeing them play the Roxy tonight as part of "The Manifestival," featuring a number of local bands.
"There's eight of us in the band and we're all best friends. If we couldn't do this, we'd all be hanging out anyway," said Colin Louis Dieden, who sings and plays guitar.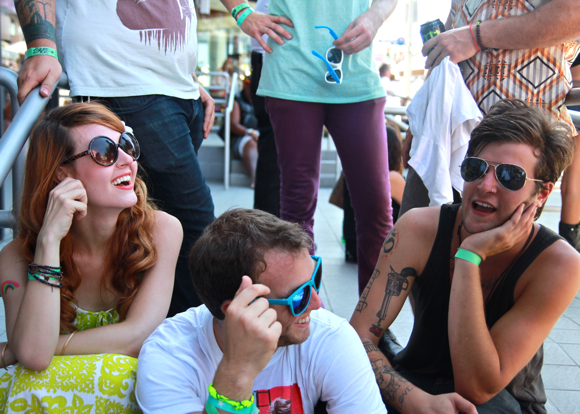 The group, made up of five childhood friends from the San Fernando Valley and three mid-western transplants, formed four years ago and hasn't stopped spreading positivity since.
"I was born in L.A., moved to Kansas City, then back here when I was 18 and I
 met some of this crew," said Dieden. "A couple of us had grown up together. Michael [Vincze] had this song called 'The Great Divide.' He played it for me and I had this really amazing chorus for the song. He had this house on Victory in the Valley and everyone would come there during the day and write. We wrote a bunch of songs and started playing."
What does the group cite as its primary musical influences?
"The '60s, '70s, the love movement happening there was a huge influence on this band," said
 Dieden. "Our bass player [Matthew Di Panni] listens to metal. I listen to folk, Katie [Jane Earl]
 likes doo-wop music and old stuff. It's kind of all over the place. That's what forms our
 sound."
If the name Mowgli sounds familiar, then you probably read Rudyard Kipling's moral fantasy
 "The Jungle Book" about a feral "man cub." Or perhaps you saw the Disney film
 adaptation.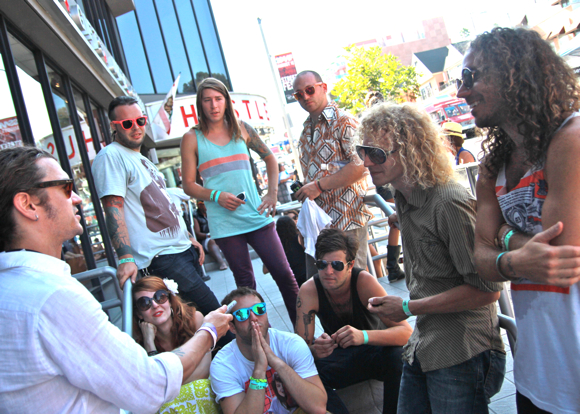 "A former member of the band had a wolf dog called Mowgli. It was always running around 
the studio when we were first starting," said Dieden. "Then there's the boy from the book who was wild and free, with a youthful vitality that we all subscribe to."
Why do you play music?
"If I didn't, I'd have a complete mental breakdown," said Dieden. "There's a lot that happens in
 the world and feelings that go along with that. To dissect that in your head and get it out of 
you is very therapeutic. If you have a voice and people listen to it, then you should use it responsibly. I just want to make this world a better place while I'm here."
The Mowgli's have a new record on the way.
"It drops June 18, so very soon," said Dieden. "It's called 'Waiting for the Dawn.'"
Currently, the Mowgli's are touring to promote the album. They are appearing as a musical guest on Conan O'Brien on Thursday night.
"We just got off a two-month tour," said Dieden. "Now we are in the midst of the summer 
festival circuit. We just did BFD Fest in San Francisco, then off to Lollapalooza and Bonnaroo. 
It's just insanity."
Better than seeing them on T.V., the Mowgli's perform live tonight at the Roxy Theatre for "Manifestival."
"Nic Adler, who owns the Roxy, is my best friend and brother," said Dieden. "Whenever we get a chance to work with him we're stoked, the venue's amazing. He totally understands the love vibe that we do, he's a similar person. We're taking over the whole venue; bands upstairs at On The Rox and downstairs in the main stage. A lot of amazing artists."
There will be other live performances by The Lucky Lonely, Hunter Hunted, American Authors
 and Sharkitecture (one of Dieden's side projects).
"I don't want to say 'antithesis' but it's sort of like the duality of the Mowgli's, who spread peace
 and love," said Dieden, referring to Sharkitecture. "Whereas Sharkitecture explores a lot of darker territory things that need to be spoken about anyway."
Tickets are $15 for the Roxy show. More information online.