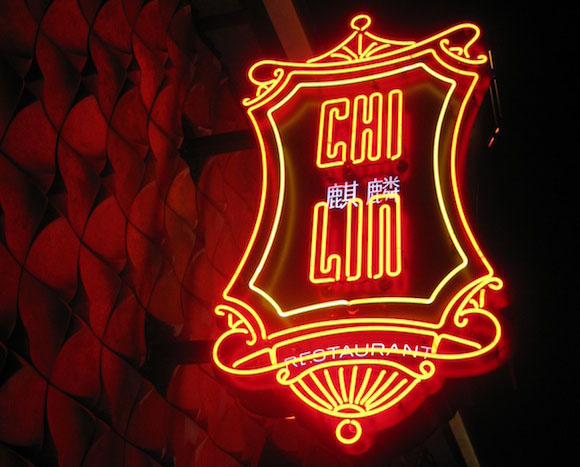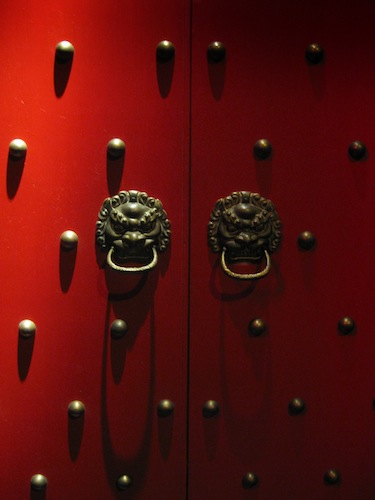 [dropcap]A[/dropcap] former Hong Kong rebel film director and chef is turning her fearless spirit loose once again, this time in the form of Chi-Lin, a new high-end Chinese restaurant sitting on the edge of West Hollywood and teetering on the edge of fantasy.
Chef Cecile Tang once operated a quiet and stylish Chinese restaurant a few doors down from the new Chi-Lin. It was called Joss, and it moved to Beverly Hills years ago where it still enjoys a small, but loyal following.
With the opening of Chi-Lin, Tang has gone big, while her deep-pocket partner Innovative Dining Group has locked down the west side of the Sunset Strip. Along with BOA and RivaBella, IDG now has three themed mega-eateries, all within shouting distance of one another. As a consequence, the tony stretch of Sunset Boulevard west of Doheny that fades from business to residential may now evoke Downtown Disney more than a village vignette fueled by "mom and pop" dreams.
None of IDG's offerings in this part of town are cheap, and none of them are demure in scale or ambition. The consideration here is more towards the well-heeled who slalom down Doheny Road to be seen at this new culinary Epcot center where valets circle luxury sedans and the occasional paparazzo flashbulb cuts through the night like a crack of lightning.
One could easily dismiss this place as scenester bait, but I'm more than curious to discover what waits behind the double red doors that welcome diners to Chi-Lin. Tang says it will be "new Chinese." Innovative Dining Group promises "modern Hong Kong cuisine." And really, HK is no stranger to glam, so I could just as easily be ducking into a Tsim Sha Tsui hot spot on the Kowloon Peninsula. I can almost hear the squawk of wayward seabirds from Victoria harbor.
Through the doors I find a Zen fantasy from design firm Studio Collective. The main dining room is lit by 300 suspended lanterns. An optical illusion from a series of infinity mirrors along the outer walls adds a touch of surrealism. Garden scenes follow the path of the white butterfly, the delicate insects blooming like buds from the tips of tree branches. On the far side of the large room past circular booths, seductive reds and black granite highlight the bar and lounge.
I begin my meal with a themed cocktail and a bowl of Quail Consommé with Chinese Berries and Ginseng ($12), which is exquisite, the broth rich and unctuous. A gogi berry floats into my spoon, followed by a tiny soft-boiled quail egg surrounded by delicate ginseng blossoms.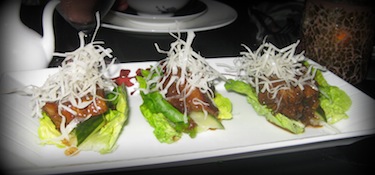 Cantonese is the primary influence in Hong Kong, so my second course of char siu is emblematic. But here it is given a de rigueur twist with the use of pork belly in the Char Siu Mangalitsa Pork Belly Lettuce Cup ($15). The plate arrives with three diminutive cups of butter lettuce already hugging lumps of juicy marinated bacon and julienned pickled cucumbers.
The menu is heavy on the appetizers with bao, shrimp toast, pot stickers and bbq ribs all represented – though in fussier versions. As a departure, I try the 5-Spice Smoked Shaved Beef On Crispy Scallion Pastry ($18), and though I find the spring onion flavor of the pancake pleasant and mild, the dish is dry and lacking brightness. Unfortunately, HK cuisine doesn't allow for the dollop of crème fraiche that would make the crispy discs sexier on the palate. Another miss was a veggie side dish of Leaves of Wild Yam in Lemon Zest ($14), a superfood of dark green leaves dotted with little yam cubes. Unlike soul food's richly flavored collard greens, this dish was oddly unappetizing.
Whereas the starters were spotty, Chef de Cuisine Yujean Kang nailed the main dishes. Aberdeen Alaskan King Crab ($36) is cooked perfectly, the crispy crab legs prepared with garlic and chili in the Hong Kong Aberdeen method and twirled with clear mung bean noodles – a very tasty dish. Following this was a Braised Black Cod Kang Style ($29), the fish cooked in ginger and star anise and arriving at the table sweet and light as air. The two plump filets were served with chunks of pineapple stalk, fava beans and roasted garlic as a harmonious accompaniment.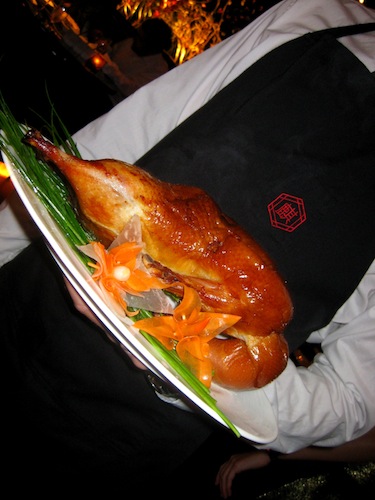 Anticipation spiked as one of the most famous Chinese dishes, and the crown jewel of Beijing cuisine arrived: Peking duck. Its crispy lacquered skin and moist meat make this bird worth destination dining. The runner presented it whole before he whisked it away again to be sliced thin. I then devoured it á la mu shu: wrapped in small crepes, drizzled with hoisin and topped with cucumber and scallion. The good news is that it feeds two or three people. The bad news is that it will run you $72.
There is little doubt that a good meal can be had at Chi-Lin, especially if you have some coin to throw around. If anything was missing from the night's meal, it was the soul. Innovative Dining Group has become a bit formulaic. This is not a bad thing on some fronts: their staff is professional, their attentive floor managers are legion and everyone at Chi-Lin is unpretentious and genuinely friendly. But the room at Chi-Lin is exactly as dark as their other four WeHo restaurants, the din exactly as loud, the prices exactly where the market can bear them and the crowd exactly as beautiful.
You feel very far from the notable Chinese eateries of the San Gabriel Valley. You are insulated from the culture clash of Chinatown and unpolished authenticity: the surly Chinese waiter who is clearly in the middle of a 12-hour shift, the grease spots on the laminated menu, the shouted Cantonese that flicks your eyes to the swinging kitchen door.
All of this lost romance aside, there are flashes of brilliance in the food, if you order wisely. There is no better place to take your relatives from the fly-over states. It is unlikely, however, that you will be a regular without someone in tow that you need to impress.
Yet, for the price, there is no plush carpet underfoot, no hushed tones and no traditional tea service. This is the new fancy, the L.A. restaurant, and Innovative Dining Group is unabashedly defining it. And although they might have hot and sour soup to soothe your stuffy nose if need be, Chi-Lin is really a crouching tiger waiting for the next studio wrap party, with Cecile Tang its hidden treasure somewhere beyond those walls of white butterflies.