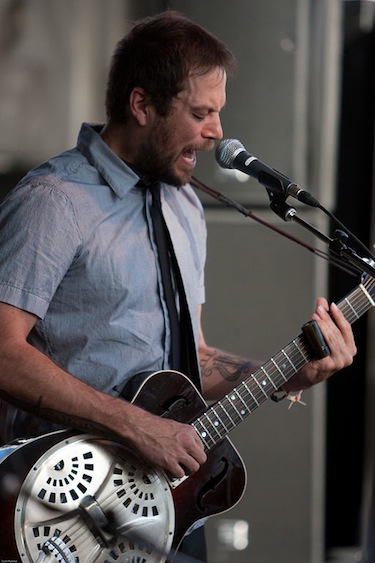 Rocco DeLuca has been writing, recording, touring and living the Bohemian musician's dream ever since he formed his band in 2005. Now a solo artist, the California native needs only an invitation, a steel guitar and a stage to play. He has performed alongside legendary blues musicians, as well as modern rockers in venues around the globe.
Currently, DeLuca is working on his fifth album release "Into The Hills," out early next year. In the meantime, he'll be taking the stage with Trixie Whitley at the Troubadour on Friday night.
His songs are deeply melodic, mashing blues with rock and soul. However, a big part of the "DeLuca experience" is rooted in his upbeat personality and sense of wisdom.
DeLuca spoke to WEHOville about his father's influence on his music, what it means to be a modern music man and about life on the road, including his love of vintage motorcycles.
Question: So what have you been up to lately?
Answer: "I'm kind of on my own right now. I bring my old 1971 National and I play slide guitar and just kind of 'troubadour.' Sometimes I'll bring a little kick drum, maybe a friend or two. I've been gypsy traveling with it."
At what point did you begin playing music?
"I started pretty young. Just like any kid, I was just trying to hang out with my dad and my uncles because they were playing in the garage and I noticed that if you could play well at a young age, you could hang out a little longer than usual. You get to stay up a little later and see people be passionate about something."
Do you only play vintage instruments?
"Those are the first things I saw around me, so I gravitated toward them. As soon as I heard people like the great Son House and Mississippi John Hurt and records like that, I really flipped out. I only wanted to play slide guitar. I could hang out a little longer because no one else was playing that in the room."
When did you become a professional performer?
"I'm still waiting for that to happen. (Laughs). I got a record deal a few years back, that was when it truly started. I was touring with blues performers, just doing little sets, and going on to the next town. I spent a while touring with Edward Sharpe and the Magnetic Zeros last summer. They're friends of mine. Prior to that I was touring with Keane and blues artists like John Lee Hooker. I consider him one of the treasures of America. I think his presence was one of the strongest I have ever seen."
What projects have you been working on?
"Now I'm kind of starting over I guess. I just did an album with Daniel Lanois called "Into the Hills," due out in February. Until then I'll be doing little shows at speakeasies all over the world."
Do you consider yourself to be a traditional Blues man?
"I've never done the straight business. I love strong melody as well as sonics. It's kind of an experimental folk-blues. It was so cool to work with Daniel Lanois, who's also worked with Bob Dylan, Willie Nelson, Neil Young, Emmylou Harris and Peter Gabriel to name a few … Not settling or compromising but reaching for something new to make a contribution, not make something derivative."
What else is on the horizon for you this summer?
"I don't know if it's been announced but we're doing a show with Neil Young and Emmylou Harris in Canada for his Harvest Fest, which will be really fun getting to hang with some of the old timers from Canada. Maybe we'll take a motorcycle ride into the hills."
You are a motorcycle enthusiast?
"I love to ride man, that's why I call it [the album] "Into the Hills" because it's my way to get out of the city whenever things get complicated in the neighborhood. This summer I'll finally pick up a van and throw one of my bikes in the back and wherever I end up, I can go for a ride. I think that sounds like a pretty good way to turn into a grandpa."
What do you ride?
"I have a '66 BSA Lightning that I've been wrenching on for a while with some friends. I got left an old 'Shovel' by a family member. Hopefully this summer I can have it pieced together but, as it turns out, I'm not that great of a mechanic." (Laughs.)
How do you like performing at the Troubadour?
"We love The Troubadour. A couple of years ago I started my 'Mercy' tour with Daniel (Lanois) and my drummer Ryan Carman. We had such a great night. I love the room, I love the sound and I love its history. It's one of my favorite places on that side of town."