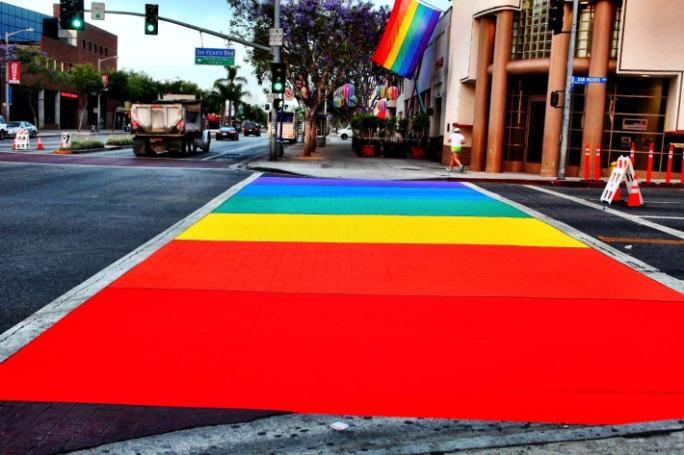 West Hollywood will hold a dedication and ribbon-cutting ceremony to mark the one-year anniversary of the city's rainbow crosswalks on "Gay Pride Sunday" (June 9) at 9 a.m at the corner of San Vicente and Santa Monica boulevards. The event will also include the launch of the community photo project "Show Us Your Pride."
For "Show Us Your Pride," visitors and residents are invited to take photos on the rainbow crosswalks and post them to Facebook, Twitter and Instagram (using the hashtag #wehorainbow).
"The intersection of Santa Monica and San Vicente Boulevards is the place where we gathered to protest government oppression, mourned our dead and celebrated our journey to liberty. As such, it is a touchstone for the international LGBT community to remind us of our history and declare these four corners "home," said West Hollywood Councilmember John Duran.
The crosswalks, painted the rainbow colors of the LGBT flag, represent gay pride and LGBT rights. West Hollywood was the first city in the world to install permanent rainbow crosswalks.
More information about the event is online or call 323-848-6460.