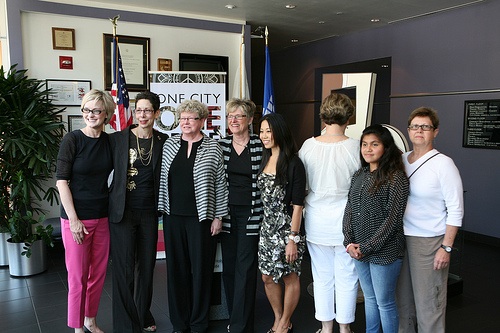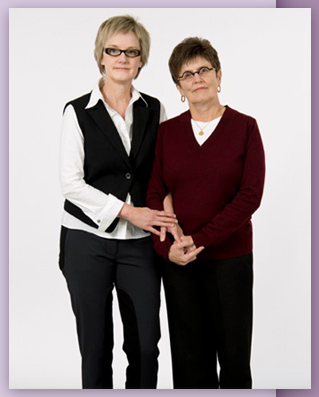 For 34 years, photographer Carolyn Sherer kept her relationship with her partner Jean closeted.
In Alabama, her home state, where discriminatory legislation against the LGBT community is prevalent and an unwritten military-like "don't ask, don't tell" policy applies to LGBT couples and families, Sherer said she constantly "lived in limbo."
"I was 55 years old and had never come out to my family, but they knew. Everybody just carried on but never said it," said Sherer.
Decades of living in the closet wore her down until she reached a "tipping point."
So Sherer, a noted photographer in Alabama whose work has been exhibited at museums throughout Birmingham, decided to use her artistic abilities to both "come out" and invite others to join her.
"I decided I needed to do something with my art that had this social relevance that was so close to my heart," said Sherer. "I've done a lot of documentary projects but this was the most personal."
Her exhibit "Living in Limbo, Lesbian Families in the Deep South," currently on display at the West Hollywood Library, features portraits of lesbian families in Birmingham, including couples and large and small families. Some couples and families decided to turn their backs to the camera in fear of losing their jobs, their families not accepting them or child custody taking away their loved ones.
With the exhibit, Sherer provided an opportunity for an oppressed community within Birmingham to come out after years of being ignored.
When first shown in spring 2012, Sherer's work was the first full exhibition about the LGBT community displayed at Alabama's Birmingham Civil Rights Institute.
The "Living in Limbo" exhibit, part of the One City One Pride Queer Arts Festival, is currently on display at the West Hollywood Library, 625 N. San Vicente Blvd. and Santa Monica, and will be open through July 10. There will be an opening reception May 31 at 7 p.m. and a talk with Sherer on June 1 at 2 p.m.
Sherer's "tipping point" came just after she heard the story of one of her close friends, who, after losing her partner to cancer, had to call the police to gain access into her own home, formerly shared with the partner. The deceased woman's family moved in and changed the locks. Sherer's friend was locked out the day of her partner's funeral, and needed to get into the home to dress.
At the funeral, many friends and family members (both heterosexual and homosexual) learned that their deceased friend was a lesbian and had a longtime partner. Many were upset to find out she had been treated so poorly.
It's yet another example of Alabama's unwritten "don't ask, don't tell" policy, Sherer said.
"It's an adaptive behavior that we assumed," she said.
Sherer was born in Alabama but has lived all over the world. She returned to Alabama to attend college where she met her partner senior year in 1979.
After the first exhibit of her Limbo show, Sherer finally told her family about her relationship with Jean.
"I was like 'uh mom, I'm doing this art show …' and it was weird for both of us to have that conversation even though she knew," said Sherer.
Sherer, along with two other families participating in the exhibit, travelled from Birmingham to West Hollywood for the LA Pride festivities.
In one of the portraits, Maria Calhoun is joined by partner Sylvia Martin and their daughter Lucia. Calhoun decided not to show her face because she is an elementary school teacher and is at risk of losing her job if her sexuality is known.
"With the faculty, I'm sort of, kind of out," Calhoun said. "With my students I'm not. They're too young to understand and it's just not a conversation I'm going to have with them."
Calhoun believes that if any of the school supervisors knew of her sexuality, they would find a reason to fire her. Calhoun's daughter, Lucia, however, is much more open about her mom with her friends. When the exhibit opened, a lot of her friends "thought it was cool," she said.
Also making the trip to WeHo were partners Ann Huckstep and Carol Misner. Misner has two children, Clint Umphrey and Lorna Soonhee Umphrey.
Misner told her son that she'd be coming out to Birmingham in a "big way" with a photo in the Sunday Birmingham News. When she asked whether he'd feel comfortable posing for the photo, he said, "I wouldn't stand any other way," Misner said.
Misner's daughter Lorna, a resident of West Hollywood, is also supportive of her mom.
For those who made the trip, West Hollywood, and its embracement of gay society, is a world away from Birmingham.
"We just keep looking around and going this is crazy!" said Sherer.
However, conditions in Birmingham have improved for LGBT families after the opening of the exhibit, Sherer said
"Everywhere I go, when people meet me — straight people, gay people — they all say 'oh, you're the woman from that show. Thank you for doing that.' The community was ready," Sherer said.
Birmingham just needed one brave woman to kick down the door.