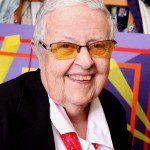 The 43rd annual three-day Los Angeles LGBT Pride Celebration, Southern California's largest LGBT community gathering, starts in West Hollywood Friday with events celebrating lesbian culture and the transgender community.
The Purple Celebration, focusing on lesbian culture, will be held from 5 p.m. to midnight at West Hollywood Park, beginning with the WeHo Happy Hour from 5-7 p.m.
The Dyke March will begin at 7:30 p.m. at the intersection of Santa Monica and San Vicente boulevards and will include the presentation of the Etheridge Award to the 86-year-old artist and activist Ivy Bottini.
The award is annually presented to a woman whose community leadership has had a significant impact on the lesbian community. It is named for singer Melissa Etheridge, its first recipient.
The celebration will also include performances at West Hollywood Park by Uh Huh Her at 8:30 p.m. and Luciana at 9:50 p.m. The fourth annual "Living Out Loud & Proud" Transgender Social & VIP Party will begin at 7 p.m. at Bill's Cafe Lounge on Robertson Boulevard and will include performances by Angel Bonilla, Kaygee and the Lora G. Band.
A festival will be held at West Hollywood Park from noon to midnight on Saturday and 11 a.m. to 11 p.m. on Sunday. The LA Pride parade will begin at 11 a.m. Sunday. Maria Menounos, a co-host of the syndicated entertainment news magazine "Extra," is the grand marshal.