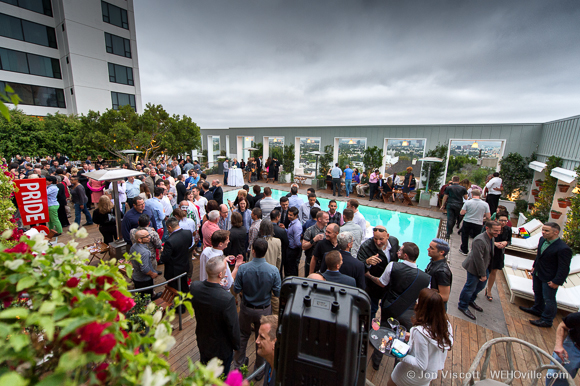 With gay pride season upon us, the LA Pride observance officially kicked off Wednesday night with the annual mayors' reception held at the Skybar poolside night club at the Mondrian Hotel on Sunset Boulevard.
"It's always so exciting to feel the energy that starts happening about a week ago and just reaches the peak on Sunday [with the pride parade]," said West Hollywood Mayor Abbe Land welcoming the approximately 250 attendees. "I want to thank you all in advance for all the fun you'll have and for all the money you'll spend in our lovely city."
Rodney Scott, the president of Christopher Street West, the organization which produces the annual gay pride festival and parade, noted how far the LGBT movement has come since the first pride parade was held in 1970.
"Forty-three years ago, a group of courageous individuals said, 'We're going to go to the street and have the world's first LGBT pride parade,'" said Scott. "We continue to celebrate it strong. We continue to grow this experience. We made one significant change. We moved it from Hollywood Boulevard to Santa Monica Boulevard in this incredible city of West Hollywood."
Scott noted how important Pride celebrations are for letting people of all ages know it's OK to come out of the closet.
Block Party clothing store owner Larry Block, attending the reception for the first time, noted how much Pride spirit was in the air.
"Everybody was mingling with everybody and it seemed like we had a big sense of community all getting ready for the big Pride week," said Block. "Everybody who [was at the party] had the highest level of respect for the community. Everybody seemed so happy."
The LA Pride Festival is Friday-Sunday in West Hollywood Park. The pride parade starts Sunday at 11 a.m., traveling down Santa Monica Boulevard from Crescent Heights to Robertson Boulevard.