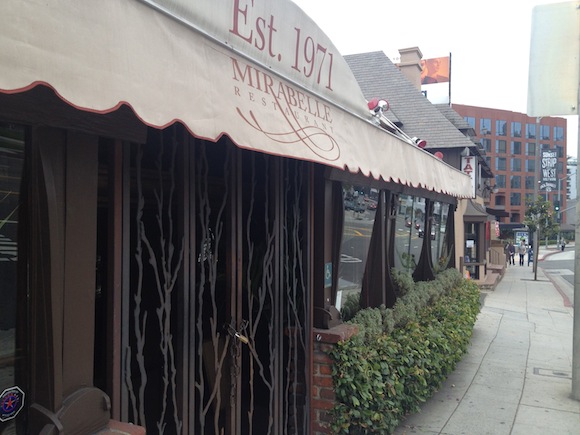 After more than 40 years serving West Hollywood, Mirabelle restaurant on Sunset Plaza closed its doors for good this week due to declining performance. The owner, George Germanides, attributes the decline to a failed reboot in May of 2012.
"I felt the pinch towards the end of the economic downturn," said Germanides in an exclusive interview with WEHOville. "I made drastic changes. I didn't listen to my feelings and I did not listen to the knowledge that I had. Instead, I listened to other people. And sometimes when you want to make a change and go in a different direction it doesn't work for you properly."
"People liked it before the remodel," Germanides continued. "Everyone came. Then we tried to relate to young people and did it like a club and it didn't work out. All my customers never came back. They got mad at me because I changed their home."
After several private meetings with Germanides, Life of Reilly Entertainment (owners of nearby Rock & Reilly's Irish Pub) have purchased the iconic space.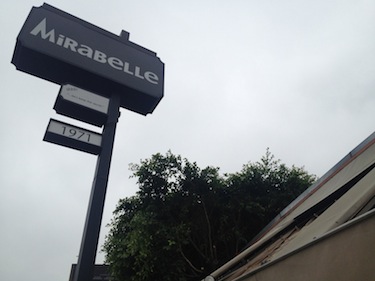 "It's amazing what George has done to establish this location over 43 years," said Bryon Schreckengost, director of marketing for L.O.R.E.
Born in Athens, Greece in 1934, the venerable restaurateur is now pushing 80. He and his wife, Lenore, first came to Los Angeles from New York on their honeymoon in 1971 for what was supposed to be no more than a few days. The young couple was so enamored with the Sunset Strip that they decided to stay.
The two newlyweds bought an old hot dog stand called Alfie's on Sunset Boulevard a few months later, not far from Holloway Drive. In the beginning, the restaurant was no more than an outdoor kitchen with some umbrella tables. Over the years it was remodeled and named Mirabelle after the couple's favorite restaurant in the Mayfair district of London.
"We were the only outside patio in West Hollywood at the time," said Germanides. "Of course, this was years before West Hollywood even became a city."
Germanides weathered decades of fads and fashions and hosted generations of celebrities and parties. The cordial Greek made it a habit to breeze through his restaurant to greet diners. Being welcomed by him became a rite of passage for glitterati and tourists alike.
"Lionel Richie used to come in all the time," said Germanides. "I used to forget his name. I called him 'Richard' and he always had to correct me. 'It's Lionel,' he would insist.
"Madonna came in when she was with Sean Penn. I gave them a secluded booth way in the back that the two liked to call 'Siberia.' They appreciated the privacy, and they certainly needed it because they fought a lot. They were surprised at how I approached them, talked to them and tried to make them find peace with themselves.
"Eddie Murphy came in all the time, too. This was when he was shooting 'Beverly Hills Cop'; I knew his order to where Eddie didn't have to ask: bagel with cream cheese and lox along with three or four glasses of orange juice. I told him if he called and said 'Hi' to my 9-year old son I would give him anything he wanted! And he did!"
Then Germanides recounted the time Michael Jackson came in with a huge entourage. Mirabelle was extremely busy that day. The King of Pop had his eye on a table that a pregnant woman had been waiting 25 minutes for. Jackson reminded Germanides who he was dealing with. But Germanides retorted with, "I don't care who you are. You can't have that table." Jackson stormed out and never came back.
With these memories and so many more, and in the company of his wife of over 40 years, Germanides decided to retire and cash out. Mirabelle's prime location made finding a buyer easy.
Following the purchase of the old Duke's coffee shop adjacent to their pub, the acquisition of the Mirabelle property marks the  third investment on the Sunset Strip for Life Of Reilly Entertainment.
"We are very excited about Mirabelle and will be bringing a currently untitled new concept to the historic space," said Schreckengost."We should have the concept and name locked down in the coming weeks, and are just honored to have the opportunity to be doing something with such a West Hollywood landmark."