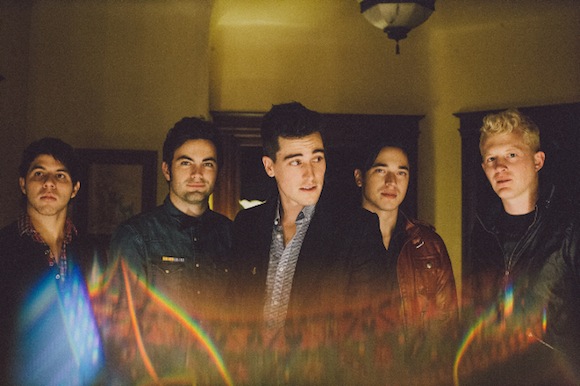 Night Riots, believe it or not, is a clean-cut San Luis Obispo rock group (SLO for short). This five-piece band, formerly known as PK (a poppier version of Night Riots), has selected a new moniker that better suits its darker side as it explores the deeper aspects of music with varying tempos and somber, haunting melodies juxtaposed against uplifting choruses.
Fans of Brandon Flowers, Robert Smith or Jimmy Eat World are sure to love them. This Friday night, they hit the Troubadour stage.
Currently, the band is crowdfunding through indiegogo, hoping to raise enough money to release its new EP.
We caught up with lead singer Travis Hawley, who talked about the EP, the band's newfound name and its ongoing summer tour.
Question: Who else is in the band and does everyone write music?
Answer: "We've also got Nick Fotinakes on guitar, Matt Depauw on guitar, Michael Van Kranenburg on bass guitar and Rico Rodriguez plays the drums. We're all multi-instrumentalists. A song idea will come to the table from one place or another and we carve it into something. Every song is different." 
Q: How do you control the quality of your sound?
A: "Every song, we try to craft and make it into what it is, if that makes sense. You have to let a song be itself, it will create a soundscape and mood, then a story is written off of it. We have a very positive message but a realistic one. We don't live in a perfect world but you've got to make the best of it."
Q: How long have you been together?
A: "Four of us grew up together in a really small town between San Francisco and L.A. called Templeton. In high school we all played in bands. We were formerly called PK. We recently changed our name to Night Riots."
Q: When did PK form and what is the meaning of the name?
A: "PK started around 2010, the name is from a book called 'The Power of One.' Now we want to open the box a bit and try new things out."
Q: So why change the name to Night Riots?
A: "We wanted to find something that more fit our sound. We wanted a bit of that latchkey feel and shows are at night. It's always such an energetic feeling. We wanted to capture that."
Q: How does the music of Night Riots differ from PK?
A: "It's indie pop rock but has a dark undertone. Similar to bands like U2 or The Strokes or The Killers. We get compared to The Cure a lot."
Q: Who else do you consider a musical influence?
A: "You've got everything from Billy Idol to Paul Simon to Peter Gabriel to Arctic Monkeys and Atmosphere."
Q: What has the band been up to lately?
A: "We're releasing a six-song EP in early July, tentatively titled 'Renegade.' We've been touring for the past week, today we've just been in the studio, finishing up a couple of tracks [for the new EP]. We have freedom right now because we've got a ton of tracks recorded, so we're just getting the ones that we want on this EP and follow up in the fall with a second EP."
Q: What other bands are really rocking these days?
A: "The three-piece girl band called Haim from the L.A. area is really cool and The Ex-Ambassadors just came out with a new EP. I dig it."
Q: Are you excited to play The Troubadour?
A: "We're extremely excited that we are even able to play there. We've played a few L.A. spots and this one we've had our eye on for a while. It's a big achievement for us. I've still not been to the Troubadour, everybody always says that's the best venue to play in L.A. For us, the first time that we've gotten to see legendary venues, The Roxy, Viper Room, The Whisky, is when we play them. We're also excited about playing with The Bad Suns."
Q: Where have you experienced the greatest audience participation?
A: "Humphrey's by the Bay in San Diego. It was an arena show. Also a local venue in San Luis Obispo called SLO Brew, a massive amount of energy comes out of our hometown audience."
Q: How do you expand you mind?
A: "If you had asked me a couple of years ago, I would have given a pretty dark answer. These days I've been focusing on pushing my mind as much as possible, learning or always driven. I'm a big fan of the classics like Hemmingway. Or the more modern authors like Cormac McCarthy. I just finished a book by him called 'Suttree.' It's been really inspirational."
Q: Other than your fans, how do you gain inspiration?
A: "It's all about new experiences, travel and writing. I travel anywhere I can. It's been a habit of mine to take a trip every year. There's something eye opening about seeing the world. Fortunately I am in a band and we tour, so I'm gone all the time."