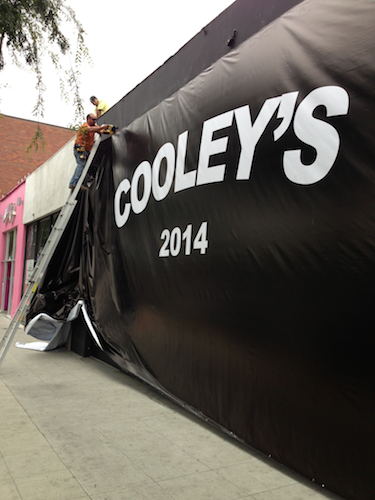 "Cooley's" will be the name of the highly anticipated restaurant and bar coming to 8936 Santa Monica Boulevard in 2014, according to management.
The bar takes on the namesake of its owner, nightclub impresario David Cooley, who created The Abbey gay bar in the early 1990s.
Cooley will work with his management team at The Abbey, one of America's most well-known gay bars, to bring his concept to 10,000 square feet of retail space, which includes the former Raffi Jewelry, Balliamos dance studio spaces and Unicorn Alley adult store. A large tarp, imprinted with the word "Cooley's," went up over the retail space on Friday.
Cooley will also build a 3,000-square-foot patio overlooking Santa Monica Boulevard and a "large terrace" overlooking West Hollywood Park.