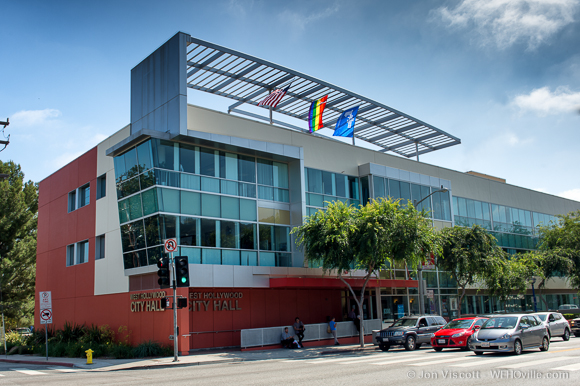 A rainbow flag now sits atop West Hollywood City Hall for the first time.
At Monday night's City Council meeting, Block Party clothing store owner Larry Block urged the council to put the flag symbolizing gay pride on the roof of the building at 8300 Santa Monica Boulevard. Councilmember Jeffrey Prang agreed it would be a good idea and told city manager Paul Arevalo to "fix" it right away.
On Wednesday, city staff put that flag up between the United States flag and the West Hollywood city flag. Observers will notice the rainbow flag is slightly larger than the other two. However, it will soon be replaced by an appropriately sized rainbow flag.
"The one on the roof is temporary because we have to order a new flag that is the same size as the others," Arevalo said.
When Block learned the rainbow flag had been added to the roof, he said he was proud to have spoken up.
"Tears are running down my face," Block said. "I'm so happy."