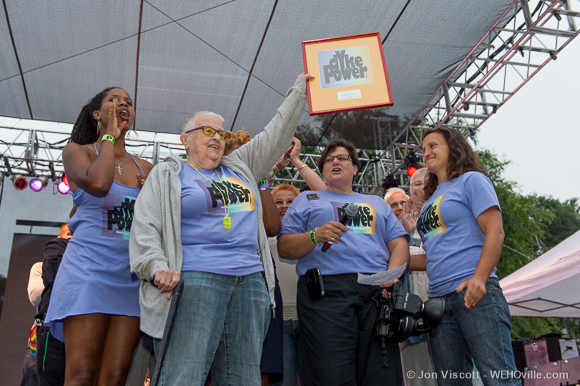 With West Hollywood LGBT activist Ivy Bottini leading the way, roughly 500 lesbians and their allies marched down Santa Monica Boulevard in WeHo on Friday night, stopping to salute the Palms Bar during the Dyke March.
With the dedication to Bottini and march as its centerpiece, Friday night kicked off the three-day Pride weekend, which included a Purple Party hosted by DJ Asha and "Living Out and Proud" Transgender Social and VIP Party. The free party, and entertainment lineup, including performances by Luciana and Uh Huh Her, were enough impetus to pack West Hollywood Park, which partied until midnight.
But it was Bottini who made the biggest splash, riding in a golf cart at the head of the Dyke March and leading cheers for West Hollywood's historic lesbian bar.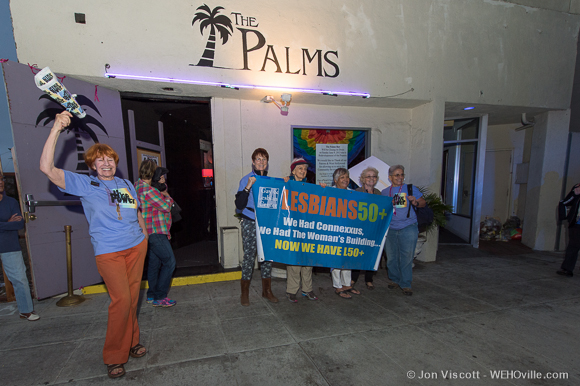 Palms owner John Laccetti and manager Chris Yamagata stood outside of the Palms bar, watching as a mass of supporters, some revving bikes, others holding up signs, cheered for the historic venue. The Palms has been a hangout for the lesbian community since the 1960s and is West Hollywood's last lesbian bar. Due to declining performance, it closes on Sunday following the Pride Parade.
"They came to say goodbye to us," said Yamagata, who called the night "bittersweet." "That was a really nice gesture on their part."
The night began in honor of longtime activist, Bottini, who received the Etheridge Award, annually presented to a woman whose community leadership has had a significant impact on the lesbian community. Bottini is currently advocating for an LGBT museum in Los Angeles and led the fight for a lesbian space in WeHo, which was recently approved to be in the Werle Building. From New York to LA, she has fought for feminist and LGBT issues for more than 50 years.
"She's been a leader in the lesbian community on every conceivable issue," said West Hollywood Councilmember John Heilman, who was joined by fellow council members John D'Amico, Jeffrey Prang and Land (Duran was participating in an AIDS Lifecycle Pride event). "The length of her involvement and activity are just astonishing."
Bottini joined the New York chapter of the National Organization for Women in 1968 and soon after designed its logo, which remains the group's logo today. She came out as a lesbian the same year, and raised lesbians concerns to NOW.
In 1971, she moved to LA, where she founded AIDS Network LA, the first AIDS organization in LA, and the Los Angeles Lesbian/Gay Policy Advisory Board. In 1977, she created and hosted the first lesbian/gay radio show on a mainstream network.
In 1978, she was a leader in successfully campaigning against the Briggs Initiative, which would have banned gays and lesbians from teaching in California's public schools. She also chaired the successful "No on LaRouche" and No on 65 Initiative" campaign, which might have quarantined people with AIDS.
In West Hollywood, she co-chaired the Lesbian and Gay Advisory Board from 2000 to 2010.
At her side Friday were members of the West Hollywood Lesbian Visibility Committee. Individual committee members took to the mic to read her accomplishments.
"Ivy is an inspiration to all of us," said West Hollywood Mayor Abbe Land. "She is an activist, an artist, a mother, a humanitarian, a visionary, and at a time when most are slowing down, she's revving up."
Bottini's rousing speech certainly got the crowd revved up for the march.
"Somebody says 'What you're a lesbian? You want to do that?" Bottini told the crowd. "Well, you will never be free until you can say, 'Yes, I am!'
"Lesbians, let's march!"
In unison with Bottini, the crowd chanted "Yes, I am! Yes I am! Yes I am!" as it headed up San Vicente toward the Palms.
After the Dyke March and honor to Bottini, the partying began, including musical performances and the third annual transgender party held next to The Abbey.
At the transgender party, Maria Roman, a leader in social services for the Latina transgender community in Los Angeles, was honored as "Miss Queen of the Universe."
It was the fourth time the tall, vivacious Puerto Rican has won a beauty pageant at LA Pride.
Roman began her journey to "self discovery" when she was 19. That's also the age she started attending Pride. According to Roman, the Pride community wasn't as inclusive to the transgender community when she first started going.
So, she made a stir by showing up topless.
"If men can be topless, so can I," Roman said. Today, she says Pride has "made a lot of headway." Friday night's transgender event was the busiest she's seen.
In West Hollywood, she has been a board member of the West Hollywood Transgender Advisory Board and has helped the West Hollywood Sheriff's Department with its "Sensitivity Training Program."
Currently, Roman is working on an upcoming theater production of "Lovely Bouquet of Flowers," a play about exploring non-traditional gender voice in Los Angeles.
Also at the Transgender party was Bamby Salcedo, a transgender Latina leader who is featured in "Transvisible," a documentary playing July 14 at Outfest.
Salcedo, who jokes she's not like many transgender women — "I don't perform, and I don't wear makeup," she said with a laugh — is hoping the story of her own hardships can help a community that often faces discrimination in many areas of life, including education, employment, family life, housing, health police and jails and ID documents.
Pride festivities continue today as the two-day festival celebration begins with dance venues, exhibitors, music and entertainment headliners. This year features a section for LGBT heritage and an art show. There will also be a special lounge, called #IMAGINE, within the festival.
The festival, at West Hollywood Park at 647 San Vicente Blvd. south of Santa Monica, is held 12 p.m. to 12 a.m. today and 11 a.m. to 11 p.m. on Sunday. Tickets, $20, and can be purchased here.