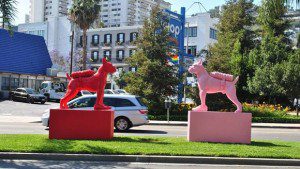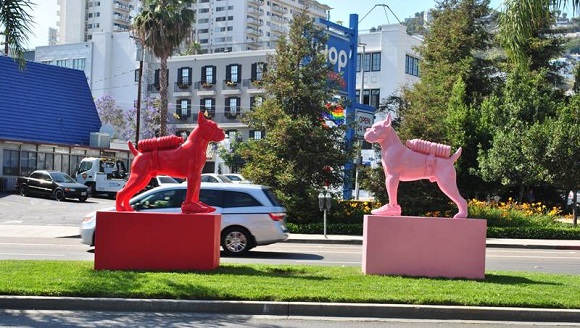 There's a missing dog in West Hollywood unlike any pooch you've ever seen.
For starters, he's pink. He's wearing tennis shoes on his front paws, and a large water bottle on his back. When on his concrete pedestal, he stands about 10 feet tall, and weighs about 120 pounds. Also, there's no chance he's a stray.
The search is on for one of artist William Sweetlove's six dog sculptures titled "pink cloned bulldogs with water bottle." Sweetlove's series of brightly colored dogs were installed just before the LA Pride festival, and are on view along the Santa Monica Boulevard median between La Cienega Boulevard and Olive Drive.
The pink pooch went missing sometime just after the LA Pride festivities between Sunday evening and Monday morning, according to Andrew Campbell, the West Hollywood cultural affairs administrator.
If someone, somewhere recently woke up with a giant dog sculpture next to them, the West Hollywood Sheriff's Department is asking it be returned.
"There's a possibility it was just someone drinking who thought he was being funny," said West Hollywood Sheriff's Department Det. Taylor. "If that's the case, we're asking them to contact us and we'll arrange to pick it up, and they won't get into any trouble.
"If we find them, it'll be a different story."
While Det. Taylor said he doesn't have any leads yet, he is confident that video from one of the nearby 10 businesses will reveal the thief.
A representative for Sweetlove said, "We will give an original Sweetlove FROG statue (value $1,600) for the person who can lead the police to the thief and/or statue."
In his five years at the West Hollywood Station spent investigating burglaries and thefts, Taylor said he can't recall any art going missing from the Santa Monica Boulevard median, which often displays art installations.
If you have any information about the dog's whereabouts, contact the sheriff's department at (310) 855-8850.
To learn more about Sweetlove's exhibit, click here.