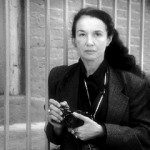 Leica, the German optics company known for its eponymous camera brand, has opened a store and photography gallery at 8783 Beverly Blvd., east of Robertson. Leica is celebrating the opening with a talk June 21 by Mary Ellen Mark, the photographer known for her photojournalism and portraits. She will discuss her work at 7 p.m. in an exhibit at the Leica Gallery titled "Leica, My First Camera." Among the work on exhibit will be her Hollywood celebrity portraits.
On June 22, Leica will feature a talk at 6 p.m. by Craig Semetko, a fomer comedy writer and performer whose photographic work has been exhibited alongside that of Henri Cartier-Bresson. He will discuss the work in his first book, "Unposed," and work from his recently portrait of America entitled "E Pluribus Unum."
On June 23, Jeff Johnson, a surfer whose photography has appeared in Surfer Journal and Outside magazines, among others, will share his history with photography. His travels have been chronicled in the documentary "180 South."
The gallery also will feature the work of Yariv Milchan, a photographer and film producer who grew up in Southern California, and Seal, the British R&B songwriter.
All of the events are free and open to the public, but Leica requests that attendees RSVP to RSVP@leicacamerausa.com.