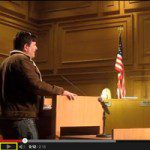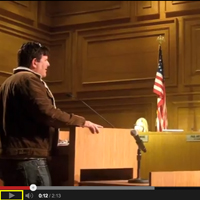 The next WeHo City Council election is nearly two years away (and the most recent one is only three months past), and already there is a buzz in political circles that Larry Block is weighing a run for one of the seats held by incumbents John Heilman and Abbe Land.
Block, chairman of the Disabilities Advisory Board and owner of the Block Party, a clothing store for gay men in West Hollywood, has been a frequent presence at council meetings. He caused a buzz on one occasion by demanding that councilmembers John Heilman and John D'Amico, who famously were not on speaking terms, stand up and shake one another's hands. He also continues to campaign for the council to designate part of the west end Santa Monica Boulevard where gay clubs are congregated as "Boystown." And he has been critical of the city for not hanging the rainbow flag banner, a symbol of gay rights, at City Hall. The city hung a temporary flag from City Hall last week in time for LA Gay Pride. Block plans to donate a permanent one at the next city council meeting.
Block has announced his intention to various movers and shakers in West Hollywood, although he declined to confirm for the record. He has more than a year before he has to make it official.