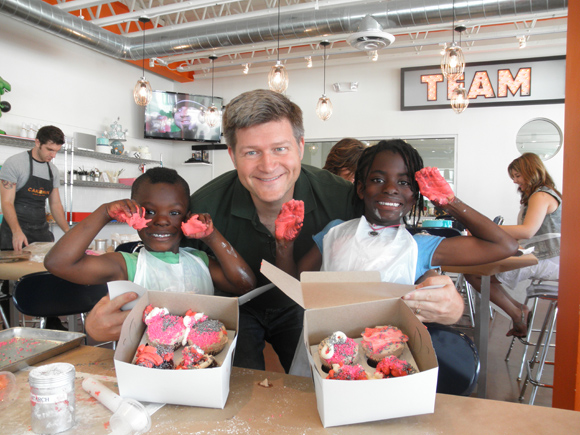 For John Ireland and his husband, Duncan, this Father's Day will be doubly special. For one thing, this is the family's first Father's Day since they adopted their second child.
The holiday will also be special because their family — the two dads, 8-year-old Emma and 5-year-old Giovanni — will celebrate with a whole community of gay dads and their kids.
The Pop Luck Club, an organization for gay dads and prospective dads, will host its third Father's Day brunch at the Abbey on Sunday. It will be followed by the "Celebrate Fatherhood" free concert and fair in West Hollywood Park.
Pop Luck is billing the festivities, part of the city's slate of One City One Pride events, as "the world's largest gay Father's Day celebration." The event in the park will include a resource fair where those interested in becoming parents can gather information about options for family formation.
John Ireland imagines that, years in the future, another dad will look back on Father's Day 2013 as the beginning of his journey toward parenthood. That's how Ireland looks back at a Pop Luck resource fair he and Duncan attended when they first discovered the organization.
It was 2002 and, after about a decade together, the two men wanted to start a family. But they weren't sure how. They didn't know any gay couples with kids.
At the resource fair in Plummer Park, they discovered that there were agencies actively seeking same-sex couples to become foster or adoptive parents. They went through the process of becoming certified.
In the summer of 2005, they welcomed a child to their home. And then another. And another. They knew that the first baby they welcomed needed a temporary place to stay rather than a permanent home. They didn't know that her birth mother was pregnant. They provided a temporary home for her sibling as well.
The same summer, Emma, then just 4 months old, came to them. They adopted her; the other two children went on to be adopted by their biological aunt.
Ireland said that it was sad to say goodbye, but luckily it wasn't really goodbye. Their adopted mother embraced the two men as part of the family, and they've continued to be like uncles to their former foster kids.
Last year, the two men were hoping to add another child to their family when they found out about Giovanni. Not only was he available for adoption but he's a biological sibling of Emma's. They've finalized his adoption, and the family of four resides just outside WeHo.
"We've really built this perfect family for us," said Ireland, now the Pop Luck Club's board president.
The Pop Luck Club, an all-volunteer nonprofit, was launched and incorporated in West Hollywood. It began in 1998 with a group of gay men who wanted to be parents, Ireland said, though none of them were yet. Today the group includes about 300 families who altogether have about 500 kids. Many of the dads have been watching one another's kids grow up for years.
Men who are considering becoming parents, or who are beginning to take steps toward becoming dads are still welcomed, too, and they comprise a substantial portion of Pop Luck members.
Though its membership stretches all over L.A. and beyond — and it now includes an Orange County chapter — a significant portion of its members reside in WeHo, where many of its events take place. That includes a monthly potluck at Plummer Park on the second Sunday of each month. For more information about Pop Luck Club events, click here.
[hr_dotted]
About the Pop Luck Club's Father's Day Events
Sunday, June 16 – Brunch
The Abbey
692 N. Robertson Blvd. at Santa Monica
The brunch begins at 11 a.m., and the brunch buffet costs $18 for adults and $7 for kids. RSVPs are requested and should go to rsvp@RaiseAChild.US.
Sunday, June 16 – Celebrate Fatherhood concert and fair
West Hollywood Park
647 N. San Vicente between Santa Monica and Melrose
There is no charge for the 1 p.m. celebration in the park, which will include kids' music and entertainment.