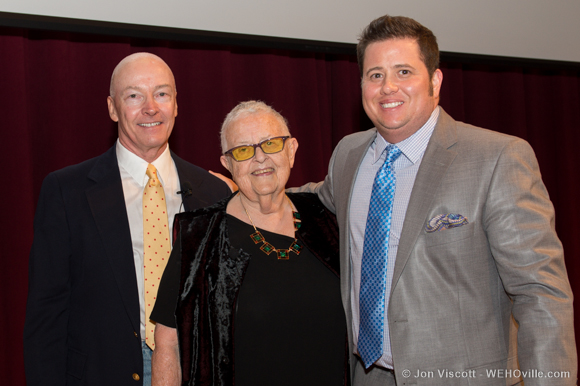 Is transgender activist Chaz Bono upset with the city of West Hollywood?
Rumors circulating around town are that Bono, who underwent a female-to-male gender transition between 2008 and 2010, is upset because longtime LGBT activist Ivy Bottini referred to him as "she" rather than "he" several times in an introduction speech at the city's annual Rainbow Key Awards ceremony.
Bono, the child of entertainers Cher and Sonny, was one of seven LGBT activists receiving an award. He has not spoken publicly on the matter.
"I left a very nice apologetic message on his phone and told him I meant no offense. I admire him," said Bottini, who first heard about Bono being upset on Wednesday night and phoned him Thursday. "I believe I said, 'It took a lot of courage to do what you've done and that I'm sorry.' And if he wanted to speak to me to call me, and I left my phone number."
According to a transcript of the Rainbow Key Awards, Bottini begins by calling Bono a "she" while reminiscing about having "watched her on my [mumble] when she was this blonde cute, just adorable little girl. And then I watched her over the years grow. And then I actually have introduced her a couple of time at book fairs and things like that. And then suddenly 'she' was 'he.'"
Bottini then refers to Bono as "he" in the second half of her introduction.
"He actually was on 'Dancing with the Stars' and reached millions and millions of people because he was dancing as a transgendered person. And one thing that I have noticed since he has made the transition is that he smiles a lot more. It warms my heart. So, I would like you to welcome Chaz Bono," Bottini said.
Bono is reportedly also upset that Bottini's introduction focused on his television appearances – as a child on his parents' variety show and more recently on the reality competition "Dancing with the Stars" – rather than his extensive work as a transgender activist.
The awards were handed out by the city's Lesbian and Gay Advisory Board (LGAB). The 86-year-old Bottini served as one of the emcees for the ceremony.
At Thursday night's monthly Lesbian and Gay Advisory Board meeting, board member Robert Gamboa mentioned the rumor to the board. He told WEHOville he brought the matter up because he was concerned about "addressing it quickly."
"I hope we can make it right. I don't know what the answer is, but hopefully we can," said Gamboa. "It was my understanding that Chaz was upset, and I do not wish for anybody to be upset. It was an event to honor people and if we did anything unjust to them, we need to make it right."
Gamboa hopes the situation will make people more sensitive to transgender issues in the future.
At the ceremony, Bono said he has been proud to call West Hollywood home since 1994.
"This means a lot coming from my neighbors," said Bono.
Bono has been a social activist as a spokesperson for the Human Rights Campaign and National Coming Out Day, and served as the entertainment media director for the Gay and Lesbian Alliance Against Defamation (GLAAD).