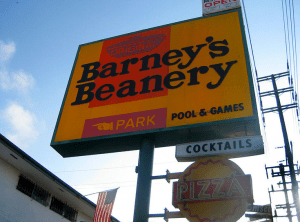 Irwin Held, who owned West Hollywood's Barney's Beanery for decades, has died. He was 87.
Held died Monday at his Hollywood Hills home from natural causes, according to the Los Angeles Times.
Held took over the local watering hole in 1970, two years after the original Barney's owner died. At the time, it was already known as a celebrity hot spot, drawing stars such as Steve McQueen, Jim Morrison and Janis Joplin.
Held also made headlines for refusing to remove a sign featuring an anti-gay slogan posted by the original owner.
A year after West Hollywood incorporated, Held finally removed the sign. He sold Barney's in the late 1990s.