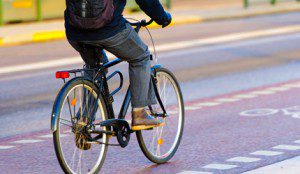 West Hollywood is engaging the bike community as it looks to update its bicycle and pedestrian plan at the end of the year.
On Saturday, June 15, the city held the first of three community workshops. Attendees asked about more bike racks, streetscape improvements and traffic-calming measures, while the city presented data that staff members have collected since April, including bike counts at intersections, collision data and problem-areas.
"It's not like we just talk about it — we actually do things. And we can do a lot more," said Mayor Abbe Land, who made a presentation at the workshop. Participants gathered into groups around maps of WeHo and drew wish lists of bike and pedestrian improvements.
The data showed that Santa Monica Boulevard, which features bike lanes in some areas, is by far the main thoroughfare for cyclists. It's also where WeHo'ans are most likely to see a crash between bikes and cars, and bikes and pedestrians.
The primarily concerns among those who attended were biking safety, connections to nearby communities and education.
West Hollywood will hold two more community workshops, the first in July and second in October. Design planning will start in August, and a final draft will be presented to the City Council in December.
In July, the city will hold a number of group walks and rides, and is also asking WeHo'ans to complete a survey about their experiences biking or walking in WeHo.
The "Pedestrian and Bicycle Mobility Plan," a response to resident concerns about walking and bicycle safety, traffic and use of streets and sidewalks, was first put together in 2003. In 2011, the city's Bike Task Force added a report that provided further recommendations.
Below are powerpoint slides from the city's presentation at the workshop.