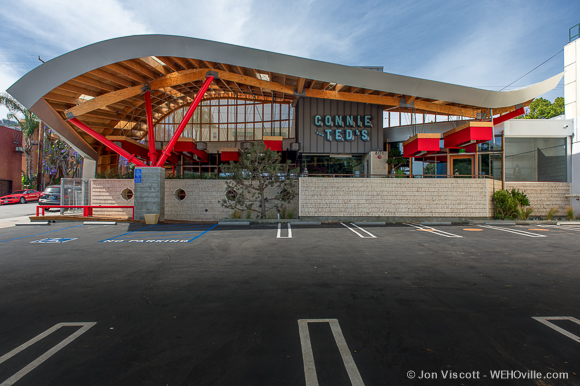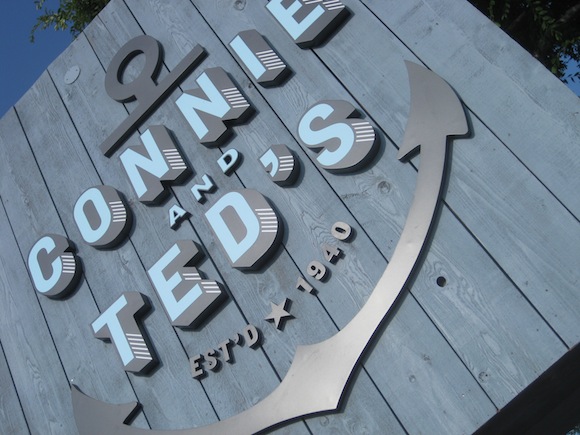 [dropcap]T[/dropcap]he most anticipated restaurant to hit West Hollywood in years is now open, and this seafood "shack" is already packed to the gills. But does it live up to the hype? Could master chef Michael Cimarusti's New England-style seafood joint, fueled by childhood nostalgia, let us down? I set out to answer these questions with a series of visits last week.
Cimarusti is one of L.A.'s most celebrated chefs and his Providence restaurant is arguably the finest dining experience in the TMZ. So I was admittedly all aflutter for my visits to his new venture.
Cimarusti's intention with Connie and Ted's (named after his grandparents) is to evoke the clam shacks he remembers from his childhood in Rhode Island. But, at least stylistically, subtly evocative is as close as it gets. This is no cutesy Cape Cod structure jutting perilously over Maine's coastline sporting trap doors in the floor to allow fisherman to deliver lobsters direct from their boats. Instead, C&T's is a post-modern hangar of a place crouched on Santa Monica Boulevard. It's only once inside that one can see the clever nods to life along the Eastern seaboard, such as oyster tag wallpaper and constellations above the bar by which one might navigate their fishing boat.
A night at C&T's is a dizzying study in confluence of intentions: wistfulness within ambition, folksiness entombed in grand architecture, plebeian sensibility undermined by the sheer relevancy of the place. What may have started as homage to a relaxed, blue-collar paradigm is now incongruously au courant. There are 140 seats in the place and all of them taken. Wait times for walk-ins can run an hour-and-a-half, and reservations are being made a month in advance.
But what did we expect? We all watched this wacky structure go up for months, all salivated at the thought of our very own oyster bar in WeHo and we were all intent on being one of the first kids on our block to infiltrate it.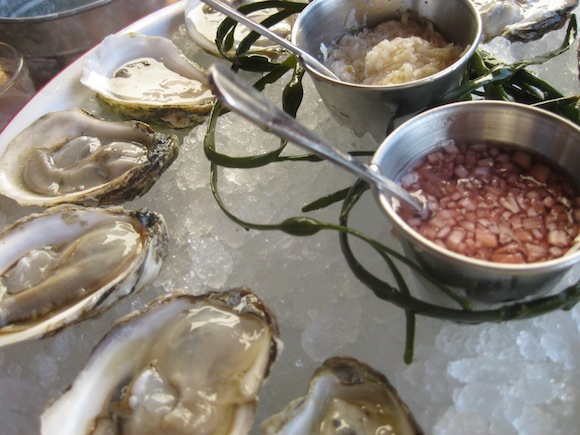 And really, as an oyster bar C&T's excels, with up to 17 varieties of the tasty bivalves on the menu at any given time. They run about $2.50 to $3 apiece, and they are expertly presented. This means no loss of the oyster's liquor during the shucking process. They are accompanied by both mignonette and shredded horseradish for those who like it hot. Also, while you wait for a table the raw bar offers an exceptional Wild White Mexican Shrimp Cocktail ($24) plated beautifully with six massive peel-and-eat U10's. A gorgeous abalone shell sits beside them on the platter of shaved ice, cradling horseradish and cocktail sauce.
When you make it to a table for a proper dinner, the unaffected dishes are fresh, generally well-executed under the guidance of chef de cuisine Sam Baxter (Providence) and occasionally simple to a fault.
Take, for example, Nancy's Peeky Toe Crab Cake ($12). It is unusually minimalistic: the fritter a thin, wide disc cooked to a perfect, crispy golden brown, but free of any adornments on top. Coleslaw and tartar sauce are offered on the side. Charitably, it could be viewed as deconstructed, a way to preserve the cake's crunchy texture, though in the end I just found it rather dull.
Another close call was the Lobster Roll, Hot or Cold ($20). I went with the cold: cool chunks of lobster with mayonnaise and chives folded into a ridiculously buttery piece of toast. Swathing my palate with rich fat is hardly playing fair, but it's a deliciously welcome exploitation of my weaknesses. The disappointment was with the accompanying French fries. These came off as plate filler when they could have been significant. They were clammy and oddly stuck together. A minor problem easily solved: substitute the fries for the yummy coleslaw (a nice blend of sweet and sour) or the potato salad in order to maximize your Andrew Jackson.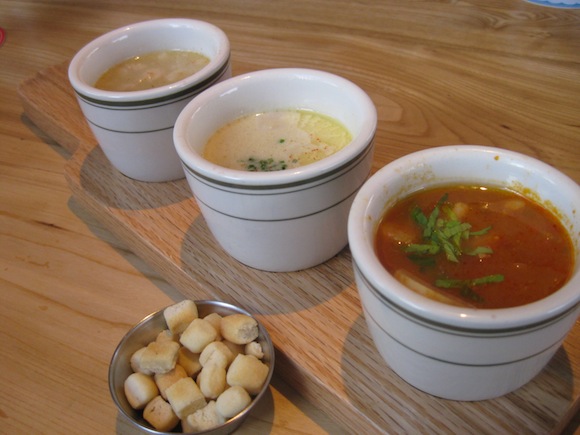 For fun, you can try Jo's Wicked Good Chowda' Sampler ($11), featuring three varieties: New England, Manhattan and Rhode Island Clear. I am partial to New England, and this version was far from the dreaded pasty glop that haunts some tureens in town. Here the happy clams are fresh and tender, bathing in delicate, buttery broth tinged white and served with house-made oyster crackers.
Other menu highlights include whole lobsters (grilled or steamed), mussels, clams, baked oyster dishes, a po' boy sandwich, a few well-crafted salads and five fresh Catch Of The Day offerings where you can choose the preparation of your fish and a side dish for around $23.
Tagging along and don't like seafood? They've got your back with big bone-in steaks and a burger. In the latter, Cimarusti champions Hook's Cheese of Wisconsin, which produces one of the world's best cheddars and whose products were once a foodie secret much like workhorse Nueske's applewood smoked bacon was in the mid-90's before it started showing up everywhere. C&T's gives you both of these Wisconsin treasures on its decadent Bacon Hook Burger ($17). Wash this all down with a score of beers on tap, a bottle of bubbly or a signature cocktail.
Saving some room for dessert is recommended. Providence pastry chef David Rodriguez is offering cookies, brownies and a strawberry-rhubarb pie. The Blondie ala Mode ($11), which features salted caramel sauce, is a must-try.
As for the service, it is super friendly and efficient from the moment you arrive until your bill comes cradled in an abalone shell. The only drawback to this impressive operation is that, as of press time, it requires a disproportionate amount of effort to get your hands on this unaffected comfort food. Nothing can be finer than a bowl of chowder on a cold day, but planning weeks in advance for it defeats the purpose.
Hopefully, given a little time, the intensity will calm a bit and Connie and Ted's will fall in line with Michael Cimarusti's relaxed vision. When that happens, in the spot where once stood an easy-going, neighborhood stand-by called Silver Spoon will be a polished and treasured pearl in the center of our little oyster we call West Hollywood.