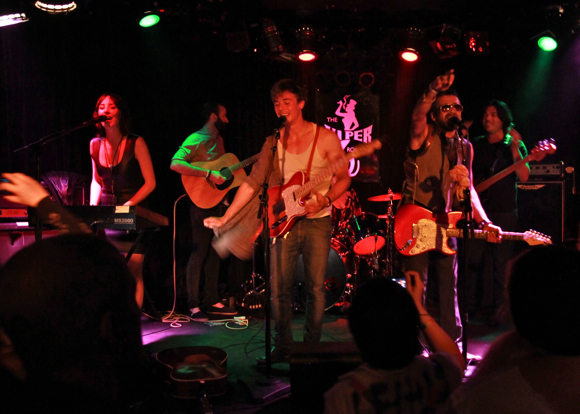 On Thursday night at the Viper Room, Codega presented a line-up of four bands on the main stage, plus an acoustic lounge downstairs. The band that most rocked the house was Beneath The Underdog, backed onstage by Viva Lion.
The set began with Daniele Cardinale on vocals and acoustic guitar, supported by guitarist Claudio Falconi and keyboardist Bianca Di Cesare of the Rome-based group Viva Lion. They got the energy going in the building with three pop-folk songs with high-tempo strumming.
Once the crowd was nice and warm, acoustic guitars were traded for electric as singer/guitarist Luca Crostella hopped on stage with drummer Priya Kanwar and bassist El Hombre — Beneath the Underdog had arrived.
Luca took the mic, Stratocaster in hand, and performed his crossbreed of electro-dance-experimental-rock. At times songs sounded like a mix of Talking Heads, Bowie, Wang Chung and the Murder City Devils. The tunes had grooving bass lines and powerful arrangements that seemed well rehearsed. Band mate interplay was natural and they knew how to build a climax.
When the band performed "Butterfly" sparkly wings were tossed into the audience from the stage. Luca's vocals were spastic but fantastic. Sometimes choruses had the charm of hooligan chants. Drummer Priya "Lethal Remnance" Kanwar beat the drums like they owed her money. Everyone onstage knew how to move. It was a party up there.
Below, see photos from freelance photographer Faye Dumanel.