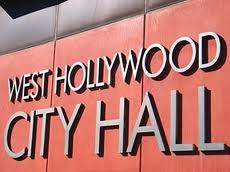 The West Hollywood City Council sold a piece of city-owned property in Los Angeles, about a mile east of the West Hollywood border, at Monday night's meeting.
The city sold the half-acre lot at 6439 Santa Monica Blvd., near Cole, to Epicenter Landcorp, LLC for $3,225,000. The city bought the property in 2006 for $3,060,000 as a site to store equipment.
According to Lisa Belsanti, a management analyst at City Hall, the city used the site to store landscape equipment, landscape materials, paint supplies, street maintenance equipment, street maintenance supplies, generators, trash receptacles, hardware, wood, lumber and furniture.
That equipment will now be stored at the city-owned property at 7317 Romaine Street, behind the Movietown Plaza Shopping Center.
The property's new owner, Epicenter Landcorp, is an affiliate of Quixote Studios, a small film and photo studio that has been located on Fuller Ave., across from Movietown Plaza, since 1999.