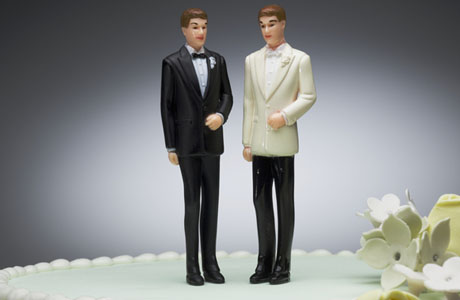 If you're eager to walk down the aisle, or considering popping the question, here's a rundown on what you should know:
What does the Supreme Court's ruling mean for me?
The court's decision that Prop 8 supporters didn't have the standing to defend the measure means that the lower court's ruling stands, and it will once again be legal for same-sex couples to marry in California.
When can I get married?
The American Foundation for Equal Rights (AFER) has said that it is unclear how soon gay and lesbian couples will be able to get hitched. According to the National Center for Lesbian Rights, it will be at least 25 days.
Once the wait is over, how do I get married?
First, you'll need a marriage license. You and your betrothed have to go together to pick up the license in person, but you can save time by requesting the license online beforehand. Then you can pick up the license at the Registrar-Recorder/County Clerk headquarters, located in Norwalk, or at a branch office; one branch office is located in Beverly Hills at 9355 Burton Way (3rd Floor, Room 300) at Rexford. Both you and your fiance/fiancee need to bring photo ID.
Once you've got the license, it is valid for 90 days. During that time, you get hitched! The ceremony can be performed by:
A clergyperson

An active or retired California judge, commissioner or assistant commissioner

The current mayor of a California city

A deputy commissioner of civil marriages; there is a program that certifies people as deputy commissioners for a day, so you can ask a non-minister, non-mayor friend to be your officiant.
How much is this going to cost me?
In Los Angeles County, the cost of the marriage license is $90. If you want a civil ceremony, there is a $25 fee. If you cannot provide a witness, one can be provided for a fee of $18. If you're getting someone deputized as a commissioner for a day, that costs $75.
That's enough to make it legal, but if you're planning a big wedding with all your friends and family, the sky's the limit!
Know any good progressive churches where we can get hitched?
There are many LGBT-friendly churches in the L.A. area. You might start your search by looking at which religious traditions were part of an amicus (friend of the court) brief challenging Prop 8.
And we have an online list of religious groups that showed support for the LGBT community by marching in this year's L.A. Pride parade.
And where can we announce our plans?
Consider WEHOville's new Celebrations page, where you can let the world know (well, that part of the world that loves WeHo) that you're getting hitched.