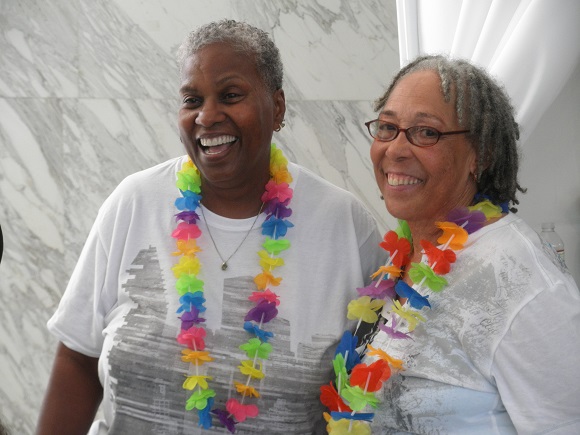 [dropcap]S[/dropcap]allee and Andrea Taylor, two South Pasadena women clad in lacy off-white gowns, thought they would "slide under the radar."
Instead, they found themselves surrounded by camera crews and photographers in the midst of a hubbub of activity on the courtyard of West Hollywood Library on Monday afternoon.
Among the first same-sex couples to marry in WeHo, they exchanged vows beneath a white canopy tent with Mayor Abbe Land officiating. In two other corners of the area were tents where City Council members, deputized to perform wedding ceremonies for the day, offered the service for free on a first-come, first-served basis.
"It's a great day in West Hollywood," said City Councilmember Jeffrey Prang. "We haven't felt this ecstatic, this much pleasure and joy since that day back in June 2008 when we stood outside the auditorium and declared that West Hollywood was open for businesses when it came to marriages."
After stepping out from beneath their canopy, the Taylors gamely responded to questions—though Andrea jokingly held a folder in front of her face as she explained she's a private person. They held out their hands to display their rings, they displayed their marriage license, and they shared in the celebration with Wanda Lawson and Lauryne Braithwaite.
"It's party time!" Lawson said. She and Braithwaite, who have been together for 32 years, live in the Baldwin Hills/Crenshaw area. They decided to marry in WeHo on Monday after reading WEHOville's report about the city offering ceremonies.
"This is awesome," Braithwaite said.
For John Clark and Juan Pena, there was a sense of urgency to tying the knot. The WeHo men have been together for 22 years and talked about getting married prior to the passage of Prop 8.
"We missed the boat [in 2008]; we didn't want to miss it this time," Clark said. When Clark and Pena heard about the emergency motion Prop 8 supporters filed on Saturday to postpone same-sex marriage ceremonies (it was rejected by U.S. Supreme Court Anthony Kennedy), they resolved to marry as soon as possible.
More than 500 couples completed online marriage license applications between 4 p.m. Friday, when a federal appeals court lifted a stay and allowed same-sex weddings to resume in California, and Monday, City News Service reported.
The main Los Angeles County Registrar-Recorder/County Clerk's Office in Norwalk will remain open until 7 p.m. on Monday and Tuesday due to the expected volume of same-sex couples seeking marriage licenses.
In press interviews, City Councilmember John Duran talked about how some of the couples he married on Monday had been together for decades. They've already fulfilled the terms of marriage, he said, and it was beautiful that the state will now recognize their relationships.
One of those long-term couples was Pamala Holt and Helen Andersen, who have already faced the sickness side of "in sickness and in health." For the Palmdale women, the day was bittersweet due to Holt's suffering from stage-four cancer. They remain hopeful that she'll beat the disease; Holt is undergoing chemo treatment. In fact, they were en route to the hospital last Wednesday morning when they heard the news about the Supreme Court's rulings on Prop 8 and the Defense of Marriage Act.
Though challenges remain ahead for them, Monday was a day for celebration. Councilmember John Duran served as their officiant while their nephews took the role of ring-bearers.
"We've been waiting for this day… I can't believe it happened," said Andersen who, like her wife, will now use the surname Andersen-Holt.
The officials who were deputized to perform weddings were: Mayor Abbe Land; Mayor Pro Tem John D'Amico; City council members John Heilman, Jeffrey Prang and John Duran; City Manager Paul Arevalo; Assistant City Manager Sam Baxter; City Clerk Cory Schaffer; Assistant City Clerk Yvonne Quarker, and Director of Administrative Services LuNita Bock.
"In 2008, this was the best part of my career, and I anticipate it will be even more amazing this time," Bock said.
They were each sworn in for a 60-day period by Dean Logan, the Los Angeles County registrar-recorder. At the end of August, the city may choose to have them sworn in again.
"This is a significant event. This is a significant time in our history and in our state," Logan said. "I kicked things off in our Norwalk offices this morning, officiated a ceremony myself. Once things were up and operational there, I came out to do this."