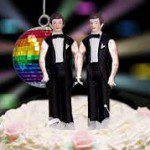 West Hollywood is extending through Tuesday its offer to provide marriage services to same-sex couples. City Council members and other city officials were temporarily deputized to perform same-sex marriages during a six-hour period Monday to help meet the expected heavy demand. Now the same services will be provided from 10 a.m. to 4 p.m. Tuesday. The marriage ceremonies will be performed on a first-come, first-served basis to couples who have obtained a wedding license from the Los Angeles County Registrar-Recorder. The ceremonies will be in the City Council Chambers at the West Hollywood Library, 625 N. San Vicente Blvd. at Santa Monica.
Ceremonies will also be conducted on Thursday at Kings Road Park, 1000 N. Kings Rd, from 1 to 5 p.m. by appointment only. Ceremonies will continue every Thursday on an on-going basis until further notice by appointment only. Appointments can only be made by the Beverly Hills Courthouse Registrar's office. It is located at 9355 Burton Way and issues licenses from 8:30 a.m. to 3 p.m., weekdays.
Parking for marriage ceremonies will be validated at the West Hollywood Park parking garage.
The city's decision to provide free wedding services is in celebration of a U.S Supreme Court decision and the subsequent lifting of a federal court stay, which allowed same sex marriages to resume in California for the first time since 2008.
The rush to the altar comes as a group of conservative legal experts filed an emergency request Saturday asking the U.S. Supreme Court to stop the same-sex weddings because its decision to not uphold voter-approved Proposition 8, is not legally final during the 25-day period when parties to the case can ask for reconsideration. That request was rejected by Supreme Court Justice Anthony Kennedy.
Proposition 8, which was approved in 2008, said legal marriage in California should be between a man and a woman. The Ninth Circuit Court of Appeals put a legal hold on the ceremonies during the court challenges, and halted the ban on Friday, leading to a rush to matrimony.