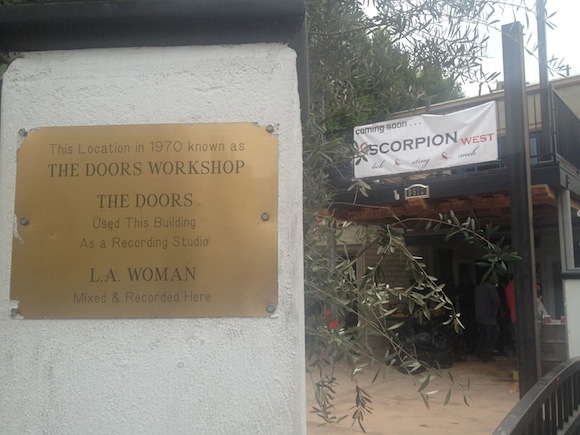 A former rehearsal and "workshop" space of The Doors will soon house a second location of tequila bar L'Scorpion. Martin Torres, owner of the L'Scorpion tequila bar and restaurant at 6679 Hollywood Blvd., near the Hollywood & Highland Center, will open a West Hollywood location, L'Scorpion West, at 8512 Santa Monica Blvd.
"I love the area," Torres said.
Though he wasn't in the market, he said he fell in love with the building's location on "restaurant row … where the action is."
The venue's part in rock history was a definite bonus for Torres, who grew up listening to The Doors. The Hollywood-area L'Scorpion focuses largely on drinks and tapas. Torres plans to offer an expanded menu at the WeHo location. He envisions weekend brunchers enjoying food, mimosas and Bloody Marys on a covered patio.
Perhaps one day they'll raise a toast to the strains of a song recorded in the building. Though it was mostly an office and rehearsal space, The Doors reportedly recorded songs for the album "L.A. Woman" in the Santa Monica building.
Since the days that it served as an office and rehearsal space for The Doors, 8512 Santa Monica has been home to several ventures. In recent years, that has included three restaurants: Benvenuto; Mexico Restaurante Y Barra; and Tradition Tapas Kitchen/Forbidden Bar and Lounge.