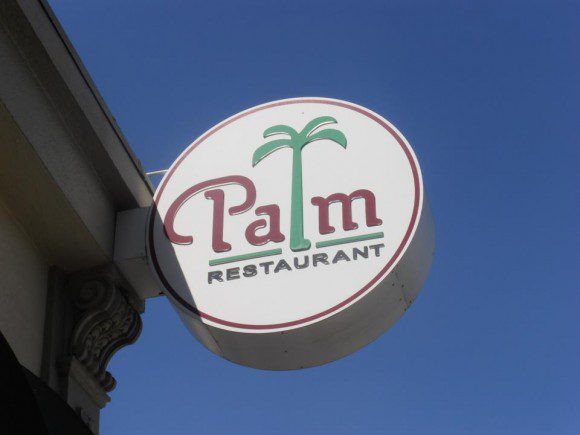 West Hollywood's famed Palm Restaurant, a fixture on the area's restaurant since since opening in 1975, will not be a part of future development plans at 9001 Santa Monica Blvd. west of La Peer as a mixed-use project moves forward for the property.
An exact closing date for the steakhouse, known for its caricatures of celebrities on the walls, is not known as calls to the restaurant were not returned. However, an amended development agreement for the site was recently approved by the city's Planning Commission and states the Palm will no longer be a part of the proposed five-story mixed-use project that will have 9,850 square feet of retail space and 42 residential units, eight of which will be affordable units.
In 2007, the City Council approved the project, which was to be done in two phases to allow the Palm to remain open during construction. With the approval of the new development agreement, the phasing has been eliminated and the staff report indicates the restaurant will close.
Ira Handelman, the lobbyist representing the 9001 Santa Monica Blvd. LLC, said the restaurant owners intended to find a new location, but he didn't have any specifics about its closing. The 30-store Palm Restaurant chain also has a location at 1100 S. Flower St. in Downtown Los Angeles, which opened in 2002.
On a 5-1 vote, the Planning Commission approved extending the site's development agreement by four years to now expire in January 2020. Commissioner John Altschul voted against the extension.
Under the terms of the amended development agreement, the 9001 Santa Monica Blvd. project, which is commonly referred to as the "Palm Project," must start construction by July 2016.
Under the previous development agreement, the project was required to start construction by July 2013. The project site includes the Palm Restaurant building as well as the adjacent parking lot and auto repair business.
Shortly after the Palm Project was first approved in 2007, residents Jeanne Dobrin and Allegra Allison filed a lawsuit against it because the proposed height of 62 feet exceeded the city's zoning code, which allows a 55-foot maximum height for five-story buildings. That lawsuit was eventually settled and the height was reduced to 55 feet. 
Correction: An earlier version of this story incorrectly stated that the Palm Restaurant would be leaving West Hollywood. The story should have stated that the restaurant will be closing at its current location.