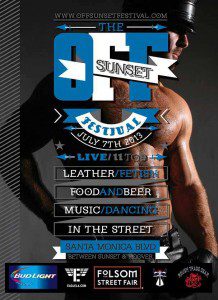 The first-ever LGBT Off Sunset Festival will feature live music, art vendors, food trucks and beer trailers on Sunday in Silver Lake.
Festival promoters say they expect to see over 5,000 attendees.
Expected to perform are Imperial Teen, Pansy Division, Prima Donna, Frightwig, Hunx, Black Sabbitch, BC and Local Channel. The DJ lineup includes Steve Cunningham (from Eagle LA and Akbar), Victor Rodriguez and Chris Bowen (from Shits and Giggles and Cub Scout), Leonardo GloVibes (from Mega Wolf London) and John LePage (a DJ and producer from San Francisco).
The event, which spans a half-mile, runs from 11 a.m. to 9 p.m. along Santa Monica Boulevard between Sunset Boulevard and Hoover Street.
Tickets, $15, can be purchased online. Parking lots will be open for a fee near Commonwealth Avenue and Santa Monica Boulevard. The nearest Metro station (Red Line) is at Vermont and Santa Monica boulevards, just a seven-minute walk to the entrance gate at Hoover Street and Santa Monica Boulevard.
The event is put on by Off Sunset Association, which is made up of a group of Silver Lake residents, business-owners and visitors.