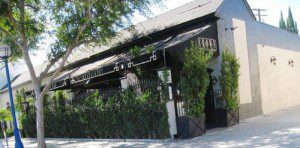 New life will be breathed into the space that formerly housed Crown Bar, according to Eater LA.
1933 Group, the name behind a number of popular Los Angeles bars, including Sassafras and Thirsty Crow, has gained control of the space at 7321 Santa Monica Blvd. at Fuller, and is at work on a new concept.
There's no word yet, however, on exactly what that concept will be, or what the venue's new name will be.
Crown Bar, which resembled a 1940s film set, was once a nightlife hot spot before closing in February of 2012. The space has been shuttered since.
In other dining news, according to Eater LA, Caffe Bello on Santa Monica Boulevard, near Pressed Juicery and Tender Greens, will be replaced by The Bossy Wife & Co., which will serve pan-Asian food.
Caffe Bello opened in August of 2012.
Co-founder Marianne Rumantir hails from Melbourne Australia, where she's founded Gaijin Japanese Fusion and Gaijin Lunch Bar, both in Victoria, Australia.
Also, rumors are swirling around what will become of Asia de Cuba, the Asian and Cuban cuisine restaurant inside the Mondrian hotel. Reports are that it will be replaced by Herringbone, a seafood restaurant currently baed in La Jolla, Calif.
The switch is said to be taking place in September.
The man behind Herringbone is celebrity chef Brian Malarkey (of "Top Chef" fame), who has five restaurants in San Diego County. La Jolla's Herringbone opened in mid-2012.
A peak of the Herringbone menu turns up dishes such as clam and bone marrow pizza, whole fish ceviche and Maryland soft shell blue crabs with creamed corn and tomato bacon vinaigrette.