[scribd id=152848575 key=key-8fawnhuju0ymwrxl8iv mode=scroll]
Click the above image for a downloadable PDF.
Come with us on an occasional Explore WeHo tour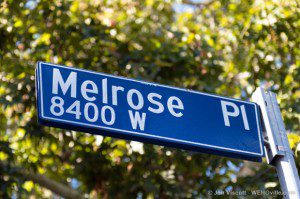 [dropcap]R[/dropcap]esidents and employees of LA's Melrose Place district like to call the enclave a town within a city.
Once the home of legendary interior design firms and antique shops, Aaron Spelling made the two-block drag between La Cienega and Orlando boulevards, just outside of West Hollywood, famous with the 1992 debut of his hit soap, "Melrose Place," which centered on a group of 20-somethings living at an apartment complex located at 4616 Melrose Place.
Melrose Place has since morphed into ground zero for Los Angeles' most dedicated fashionistas, thanks in large part to Marc Jacobs.
The designer opened a boutique on Melrose Place during the early aughts.  At the time, it came as a shock that one of the biggest names in fashion would choose such an unassuming, hidden street as the location for his latest shop.
Other designers, including Oscar de la Renta, Carolina Herrera, Alice Temperley and Chloé, eventually followed Jacobs' lead.
Still, you won't see a sales clerk turn away a pretty woman. The pretentiousness of Beverly Hills' famed Rodeo Drive has yet to reach Melrose Place, which exudes a friendly, inclusive ambience. You feel welcome, whether or not you can afford Bottega Veneta's $6,450 silver python bag. The egalitarian attitude of Melrose Place is even more apparent on Sundays, when the farmers market takes over the La Cienega end of the block from 7 a.m. to 3 p.m.
But, enough history. We need to get on with our virtual tour of Melrose Place.
Click through the pages below to tour through Melrose Place.