[hr]
Alfred Serves You Coffee, John Frieda Does Your Hair
[hr]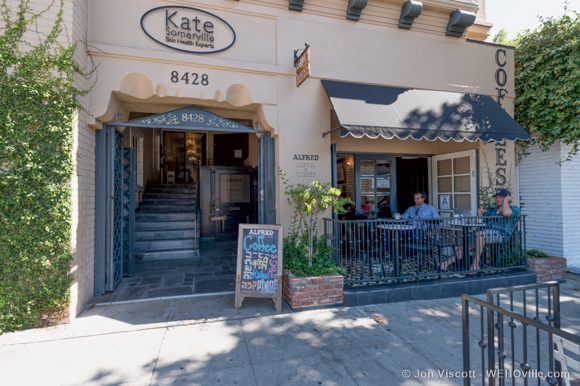 Let's start with a caffeine jolt at Alfred {Coffee & Kitchen}. Walk across the dark hardwood floors, past the stone fireplace and head downstairs — where a well-heeled barista will take your order. (In keeping with Melrose Place's fashion forward countenance, all Alfred employees are clad in a uniform created by Rag & Bone.)
Order a latté, and for a little extra fun, ask your barista to draw the coffee shop's distinctive mustache logo in the foam. Pair your drink with a pastry, which are made fresh every morning for Alfred by local bakers Cake Monkey and Susina Bakery. The offerings include the requisite blueberry scones alongside more unusual faire like huckleberry donuts, sage Gruyere sea salt croissants and sour cherry chocolate scones. Looking for fancy eats on the cheap? All pastries are half-off after 4 p.m. daily.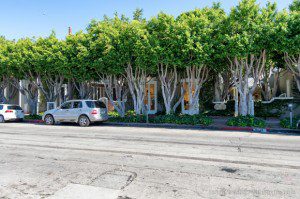 Pro tips: Alfred hosts live music on Fridays from 3-5 p.m. The coffee shop also caters dress fittings at the neighboring Monique Lhuillier bridal boutique. Alfred is open from 8 a.m. to 7 p.m. on Monday through Saturday and from 8 a.m. to 4 p.m. on Sunday.
Next, head a few doors down to The Serge Normant at John Frieda Salon. Sip a glass of their signature iced tea while your color sets under one of the hairdryers stationed around the salon's sparkling pool. You'll pay several hundred dollars for a cut and color, but your Vogue photo shoot-worthy tresses will make it all worthwhile.
Now, it's time to buckle down and get some serious shopping done.
Click through the pages below to tour through Melrose Place.