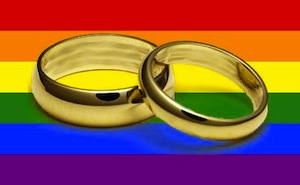 Now that same-sex marriage is legal, are you popping the question or preparing for matrimony?
If so, West Hollywood could be the perfect place to exchange vows. After all, it's one of the most LGBT-friendly places around and has a long history of supporting marriage equality.
In "Prop 8: The Musical," the star-studded cast sang out that, "Gay marriage will save the economy!" And indeed, area hotels and other businesses are vying for your patronage with wedding packages. [http://www.visitwesthollywood.com/stay/packages-offers/]
Of course, if you'd rather keep it simple, you can do that in WeHo, too. Civil ceremonies are now being offered each Thursday from 1-5 p.m. at Kings Road Park, for a $25 fee. You can make an appointment by phone — call (310) 288-1261 — or do so in person when you get your marriage license (which costs $90).
Here's what you need to know about the license:
You can save time by requesting it online
You and your betrothed must go together to pick up the license, and you both need to bring photo ID. You can get the license at the Registrar-Recorder/County Clerk headquarters, located in Norwalk, or at a branch office. If you're a WeHo'an, the closest branch office is located in Beverly Hills at 9355 Burton Way (3rd Floor, Room 300) at Rexford.
Once you've got the license, it is valid for 90 days. During that time, you get hitched! The ceremony can be performed by: a clergyperson; an active or retired California judge, commissioner or assistant commissioner; the current mayor of a California city or a deputy commissioner of civil marriages. (There is a program that certifies people as deputy commissioners for a day, so with some planning you can arrange for a non-minister, non-mayor friend to be your officiant.)
And we hope you'll consider WEHOville's new Celebrations page, where you can let the world know (well, that part of the world that loves WeHo) that you're getting hitched.