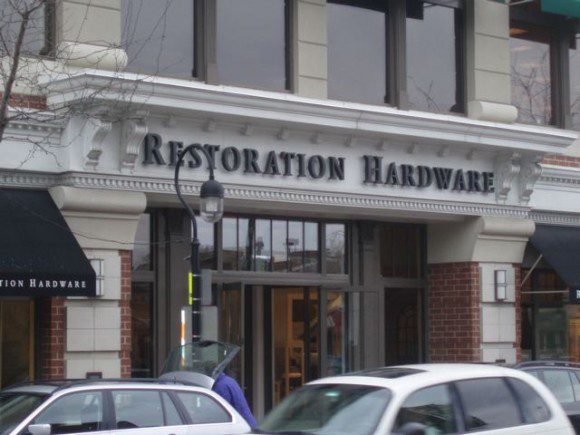 The West Hollywood West Residents Association (WHWRA) has asked the city to deny proposed changes to the design plan for the Restoration Hardware project at 8564-90 Melrose Ave. at Westmount.
In a letter sent to the West Hollywood council members on Thursday, Kimberly Winick, vice president of WHWRA, lays out the association's concerns with the latest version of the project, which has been contested by the association since 2009 when it was first introduced as a mixed-use project.
"None of the changes being proposed are minor," Winick said. "They are significant changes, which need to be studied, reviewed and discussed by the proper review authorities — meaning the Planning Commission, the City Council and the public."
Restoration Hardware held a reception on Monday, July 8 and provided a preview of its latest design.
The project was previously planned to be a two-story, 35,000-square-foot building with 130 parking spaces on two underground levels.
"The architectural features bring the height of the project to over 55 feet in a commercial area and a residential neighborhood where the zoning code (without special bonuses) permits 25 feet," Winick said.
The association also takes issue with the addition of a roof deck.
"The addition of the roof deck might result in various environmental impacts, such as noise, light trespass, additional traffic, etc. This has not been studied, reviewed or discussed by the proper review authorities," Winick said.
While the project was originally approved in 2009 as a mixed-use project (half retail, half wholesale), it is now entirely retail.
In early January, the neighborhood association was denied its petition to stop the construction project.
The association has contended that critical details of the project were switched at the last minute and that the project should require an environmental impact report (EIR).
WHWRA had hoped to stop the city and project developer BMB Investment Corp from moving forward until the proper studies had been carried out, and the project was scaled down. The project received a bonus, allowing it to go over the area's zoning height limit. The association contends that the latest design plan removes a ground level courtyard, which was the "public benefit" required to receive the bonus.
An EIR was never done because the project was originally granted a "negative declaration," a finding by a city council that a proposed development would have no effect on the environment.