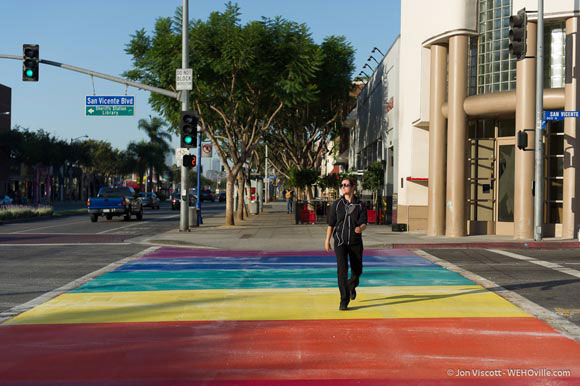 What should the intersection of Santa Monica Boulevard and San Vicente Boulevard be named?
LGBT Square? Equality Square? Boystown Square? Or something else entirely?
That's what a new task force must decide. The city's Lesbian and Gay Advisory Board (LGAB) formed a five-member task force during its Thursday night meeting to tackle the issue after resident Larry Block urged the board to recommend a special name for the intersection to the City Council.
The site of many gay rights and AIDS rallies over the years, the Santa Monica-San Vicente intersection is considered the heart of West Hollywood's gay entertainment district.
Block, who in June successfully lobbied the City Council to put a rainbow flag symbolizing gay rights atop City Hall, will serve on the task force along with LGAB members Robert Gamboa, Sue Sexton, Amy Ruskin and Paul Chavez. The task force will report back to LGAB later this summer.
In the meantime, you can help the task force come up with names. Give us your suggestions in the comments section.