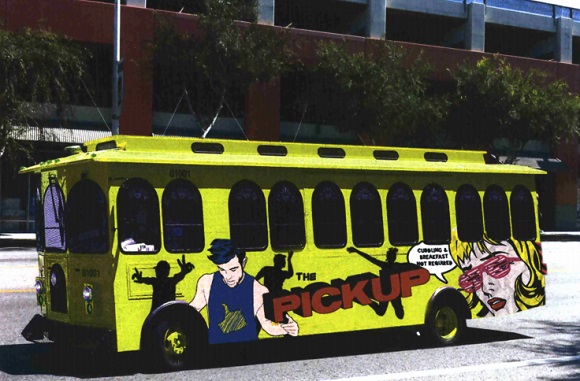 Here's a "Pick-up Line" that'll get you somewhere.
The West Hollywood City Council threw its support beyond an official city "Pick-Up Line" at Monday night's meeting, and no, it's not the kind that'll score you that guy or girl totally out of your league, but it will get you safely down Santa Monica Boulevard on a Friday night.
Soon WeHo'ans will be riding the newly named party bus "The Pick-Up Line," which offers revelers a free ride down Santa Monica Boulevard on Friday and Saturday nights from 8 p.m. to 3 a.m. The bus will make 15-minute runs from Doheny Drive to Fairfax Avenue with a detour to the West Hollywood Public Library parking deck on San Vicente Boulevard.
With the City Council's unanimous vote to approve a $71,000 agreement with American GTS, the six-month pilot program is expected to start on July 26.
In addition to approving the agreement, the council OK'd a branding proposal from Symblaze, Inc. to dub the shuttle "The Pickup Line." The name won out over the alternative suggestions "The Shot" — which was recommended by city staff members — and "The WHIP."
In fact, it was Councilmember John D'Amico who came up with the name, slightly altering the company's suggestion of "The Pick Up."
The bus will also offer a photo-booth, which the council members praised for its social-media potential.
"Maybe we can invite the 200 couples (who got married recently in WeHo) to come out and ride 'The Pick-up Line' to teach us how it's done," said Councilmember John Heilman.
The bus service, which will be offered at no cost to riders, will cost the city $110 per operating hour. The city is allocating $71,000 from the general fund to pay for the service.
GTS initially plans to use its "All-American Classic Trolleys," which seat 34 riders, one wheelchair rider and 10 standing riders. The council members, concerned the buses may be too big, could later opt for smaller buses depending on the ridership numbers.
After issuing a request for proposals last month, the city received bids from four companies: Date Bus, American GTS, SMS Transportation Services and ABM Parking Services. According to the staff report, city staff recommended contracting with American GTS in part because the company has offered shuttle service for the City of Glendale, area high schools and other groups. The fact that the vehicles will be used exclusively for the City of West Hollywood during the pilot program was also mentioned as a factor.
UPDATE: Get a first look at the Pick Up, to launch Aug. 17.