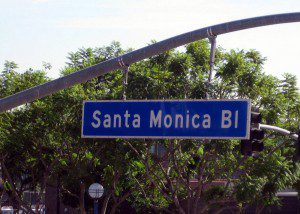 On Monday night, the West Hollywood City Council designated the entire length of Santa Monica Boulevard as an area where "special-needs housing" is allowed without review, including public hearings.
Special-needs housing includes emergency shelters, homeless shelters, transitional housing and single-room occupancy housing.
According to a state-mandated amendment to the zoning laws, the city must make it easier to open special-needs housing in certain areas of the city.
The Planning Commission unanimously approved the item in April but suggested the council narrow the area of designation along Santa Monica Boulevard and find other locations in the city.
Unable to find any suitable alternative locations, city staff members recommended the council stick with solely designating Santa Monica Boulevard
In December, during a Planning Commission meeting, some residents expressed concern over quality-of-life issues as there is the potential for more homeless shelters to open on Santa Monica Boulevard.
City staff members have pointed out that just because shelters and transitional housing would be permitted on Santa Monica Boulevard, that doesn't mean it would actually be built. Staff members have said there were better uses for spaces on Santa Monica Boulevard and that money was still needed to fund the housing.