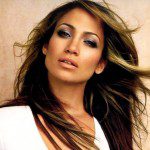 We believe folks in our little burg should be neighborly. One of the joys in living in a town as compact as West Hollywood is being able to look over the fence, or out the apartment window, and greet a neighbor with a smile.
But if your glance across the way reveals that Jennifer Lopez is now living next door, we'd forgive you for giving her the finger instead of a wave. Life & Style magazine reports that the clueless celeb has purchased a house in West Hollywood with her manager, Benny Medina. We haven't been able to figure out the address (please tip us off if you know). But undoubtedly it will be a large one given Lopez' wealth. She and Medina are planning to divide it, with Medina living on one side and Lopez on the other with her two five-year old twins, whose father is her ex, Marc Anthony, and whose godfather is Medina.
Paying for the house will be easy, given the Human Rights Foundation's recent report that Lopez has raked in more than $10 million performing for crooks and dictators in Eastern Europe and Russia.
"Performers are frequently blinded by greed and they willfully sidestep reality and become part of the public relations machinery of the world's worst people," says HRF President Thor Halvorssen. "They should be disqualified from having any moral standing to opine about matters involving human rights or business ethics."
Lopez's minders tried to explain away her most recent gaffe — a trip to Turkmenistan to sing "Happy Birthday" to the dictatorial leader Gurbanguly Berdimuhamedow, for which she was paid a reported $1.5 million. Lopez's camp explained that J. Lo didn't know about Berdimuhamedow's reputation. "Had there been knowledge of human rights issues any kind, Jennifer would not have attended," said her publicist, who apparently has never heard of Google.