For a number of years some board members of Christopher Street West, the non-profit organization that has staged the annual LA Pride parade and festival to celebrate LGBT equality since 1970, have quietly voiced their unhappiness with their relationship with the City of West Hollywood and WeHo businesses.
Now what one board member describes as West Hollywood's worst-kept secret is taking on a higher profile as some suggest CSW might actually move the LA Pride parade and festival out of West Hollywood.
A number of escalating concerns have CSW insiders, who requested anonymity, and Steve Ganzell, a member of CSW's board of directors, questioning whether West Hollywood is the right host city for the event.
CSW issued an official statement on Sunday after WEHOville inquiries about rumblings on its board about moving LA Pride from West Hollywood.
"Christopher Street West has no plans to host LA Pride anywhere other than West Hollywood," read the statement. "The Board of Directors engages in many lively discussions comprised of several personal opinions to ensure the continued success of LA Pride for our community and stakeholders. Our primary focus now is building a fantastic event in West Hollywood in 2014, commemorating the major milestone of the 45th anniversary of the Stonewall riots, which gave rise to pride festivals worldwide."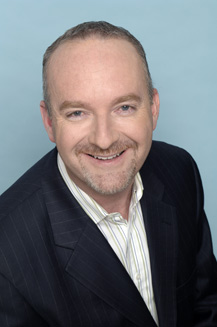 "I think what you're getting is a couple people's personal opinions," said CSW President Rodney Scott, who strongly denied any organized conversations had taken place about moving the event.
"From an organizational standpoint, our relationship is solid with West Hollywood, with Council and staff," said Scott. "We are in this together, from my perspective. That includes residents and businesses."
Some CSW board members and insiders disagree.
"This doesn't mean we are going to jump right into moving, but it comes up a lot, and we do talk about it," said Ganzell. "We have lots of ideas. We constantly consider the 'What if?' At this time, we are ready to try something different."
According to WEHOville's sources, concerns include:
A lack of support from the West Hollywood business community for the annual event, which, according to a 2008 study that CSW commissioned from Lauren Schlau Consulting, brings more than $16 million in revenue to West Hollywood. That revenue largely benefits local bars, restaurants and hotels, some of which CSW sources say, market themselves using the LA Pride brand without providing any financial support to CSW. Some business owners have said they receive a quarter to a third of their annual profits from the Pride event. According to Scott, Pride discusses "how any of our intellectual property is used across the board." "This isn't about local clubs using our brands," he said.
Costs assessed to CSW by the City of West Hollywood for street cleaning after the annual Pride parade and for cleaning and repairs to West Hollywood Park, where the weekend festival is staged. Those costs were estimated at $35,000 for the 2012 event. City officials estimated similar costs for 2013, although official numbers were not yet available. The city argues that it covers substantial costs associated with the event. In 2012 those costs, which include cleaning up after the event reimbursed by CSW, totaled $253,855. Charges for using West Hollywood Park for the festival, for closing city streets and for lost parking meter and fine revenues, all of which totalled $114,635 in 2012, were waived by the city.
A decision by a fire marshall last year to shut down the festival's very popular SummerTramp water park, a major draw for young LGBT people, including those from East Los Angeles who might not otherwise be drawn to West Hollywood. That decision was taken after the fire marshall saw a potential for violence in what one board member described as playful activity. Despite several appeals by CSW, the Los Angeles County Fire Department, which provides fire protection services in West Hollywood, refused to permit the water park this year. WeHo party promoters Andres Rigal and Luke Nero are currently promoting 2013 SummerTramp, which includes a series of events in downtown Los Angeles through September.
And finally, what some see as a lack of satisfaction with LA Pride from the West Hollywood community and City Council. In December 2011, Councilmember John D'Amico said, "There's been a lot of private conversations to me about a lack of quality of that (LA Pride 2011) event … I think there is a serious disconnect for a lot of people on that event."
As a follow-up to D'Amico's comments, the City Council spent two hours discussing LA Pride with CSW board members, including Scott, at its Jan. 17 council meeting. D'Amico said that residents described the event as "lame" or "tired."
"The politics have drained out in favor of commerce," he said.
Other criticism came from members of the public, who objected to the $20 entry fee for the Pride festival, "restrictive" fencing around the festival and the Parade's three-hour length being too long. The council agreed to form a subcommittee, including D'Amico and Councilmember John Duran, to work with CSW on ways to improve LA Pride. Duran and D'Amico agreed to work with CSW board members extensively after the 2012 event.
However, when questioned over whether that subcommittee ever met with CSW board members, Scott was vague. "I don't believe it was a direct action (of the Council)," he said. "We work with all the council members."
Neither Duran or D'Amico returned requests for comments regarding the subcommittee. According to West Hollywood City Clerk Corey Schaffer, the city has no documents regarding meetings of the subcommittee because it was set up by "less than a quorum of council," and therefore not subject to Brown Act requirements.
"That's an old story," said Scott. "The last two events, the council has acknowledged its respect for what we've accomplished."
In an April 9, 2012 letter to the West Hollywood City Council, the CSW board of directors presented the city with at least one option to create a "no-cost-to-enter celebration" (a free festival).  Among other things, CSW asked that West Hollywood pay for all costs of sheriff's services (the city currently pays for parade and Dyke March security) and for the city to co-sponsor the festival with an additional $500,000. According to Scott, that letter was a "working document" and not a formal request.
While some CSW board members have raised the spectre of Pride moving, at least one has said it is unlikely that the organization will move LA Pride from West Hollywood for fear that the City of West Hollywood would launch a competing Pride event and that attendance would fall off because of the move, further hurting CSW revenues.
"We have enjoyed a long collaboration together," said Duran. "But if they do not wish to contract with us, we will find another event producer."
Sources said one option under consideration is starting the parade at L.A. Live (the entertainment complex at 800 W. Olympic Blvd. in Downtown LA) and ending it at Exposition Park (just west of the 110 Freeway below the University of Southern California). The festival would be held at Exposition Park.
"The first time I heard about it was after the 40th Anniversary (Planning) Committee, when the whole (West Hollywood) park redesign was in process," said Ganzell. "We thought 'what would happen if we couldn't use the park?' Downtown, among other places like Plummer Park, were alternative choices to hold the festival, while West Hollywood Park was being rebuilt."
The 40th anniversary committee, a group of community leaders, worked alongside the CSW board to come up with new ideas to improve the 40th anniversary of LA Pride.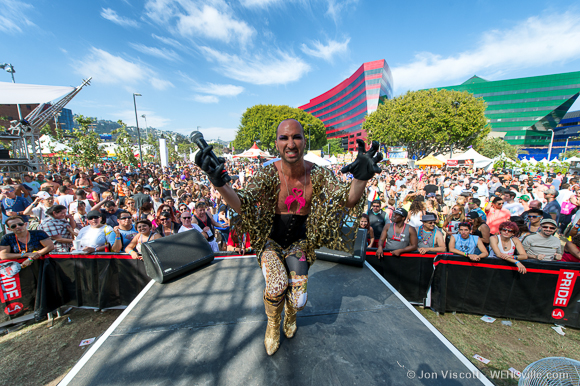 Gavy Kessler, a gay Los Angeles artist who often performs at Akbar's popular "Planet Queer," has been one of the strongest proponents of moving the parade to Downtown LA, and has created a group on Facebook called "Take Back LA Pride" with 222 members.
"While I think we all appreciate WeHo as a safe and supportive enclave for all things GLBT, it does not reflect the larger politics, economy and community of Los Angeles," Kessler said. "Some have said that everyday in West Hollywood is like Pride, which is something that I love about it, but also exactly what makes LA Pride in West Hollywood so politically void of meaning."
Kessler believes Downtown LA  would be more inclusive of the entire LGBT population.
"I want to see an LA Pride that holds space amongst the thriving government buildings, banks, galleries, residences, commerce, and parks of Downtown Los Angeles — a space where Pride can grow to be more exciting and more inclusive, the kind of world-class event that a world-class city like LA deserves," he said.
Removing LA Pride from West Hollywood would have an impact on local hotels and bars and restaurants that cater to the tens of thousands of LGBT people who flock to WeHo every June for the weekend-long event.
Pride undeniably brings revenue to West Hollywood businesses. But CSW revenues from Pride appear to be in decline. CSW, a tax-exempt organization, has reported to the Internal Revenue Service an increase in Pride-related revenue from nearly $1.4 million in 2007 to nearly $1.6 million in 2011, the last year for which its IRS report is publicly available. However, those reports include the value CSW attributes to services provided for free by the city and others. Actual cash generated by Pride for CSW has declined 13 percent — from $1.4 million in 2007 to $1.2 million in 2011 — over that period, although it grew modestly from 2010 to 2011.
That money comes from corporate sponsorships, fees charged to parade participants, fees charged to exhibitors and vendors on the festival grounds and admission charges to the festival, which have been $20 a person since 2006 ($15 if purchased online). Festival fees are especially important to CSW, accounting for 74 percent of CSW's Pride-related cash revenue in 2011. Festival admission revenue has declined by 4 percent between 2009 and 2011, suggesting a drop off in attendance.
It is not clear how many visitors the Pride festivities draw, although Christopher Street West routinely cites 400,000 as the number of people attending Pride events. The festival itself, held this year in West Hollywood Park, attracted approximately 24,000 paying attendees in 2011 according to data in CSW's Internal Revenue Service filing for that year, the latest available to the public. There are no official figures on how many people watch the Pride parade, which takes place for several hours on the Sunday of Pride weekend along Santa Monica Boulevard from Crescent Heights to San Vicente.
In 1979, Pride moved from its original Hollywood location to what was to become West Hollywood. The move came in response to LAPD hostility (the department was headed by the notoriously anti-gay police chief Edward Davis) and a population shift that saw more openly LGBT people moving to the unincorporated portion of LA County that became West Hollywood.
Sources said the CSW board also is concerned that the LAPD might be less hospitable to a large gay audience than is the Los Angeles County Sheriff's Department, which provides public safety services in West Hollywood.
"I appreciate the relationship we have with the West Hollywood Sheriff's Department," said Ganzell. "They are protective. From what I know, we have a good relationship with them. We don't have any connection with LAPD, so who knows what that would be like."
Scott became president of CSW after the 2000 event. He is credited with fixing many of the problems inherited from previous president John Cappadono, including lack of fundraising and the departure of many volunteers.
"We are focused on next year and the 45th anniversary of Stonewall, and the following year, the 45th year of CSW hosting Pride," said Scott.
"Both will occur in West Hollywood."