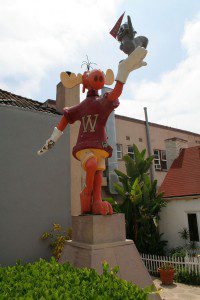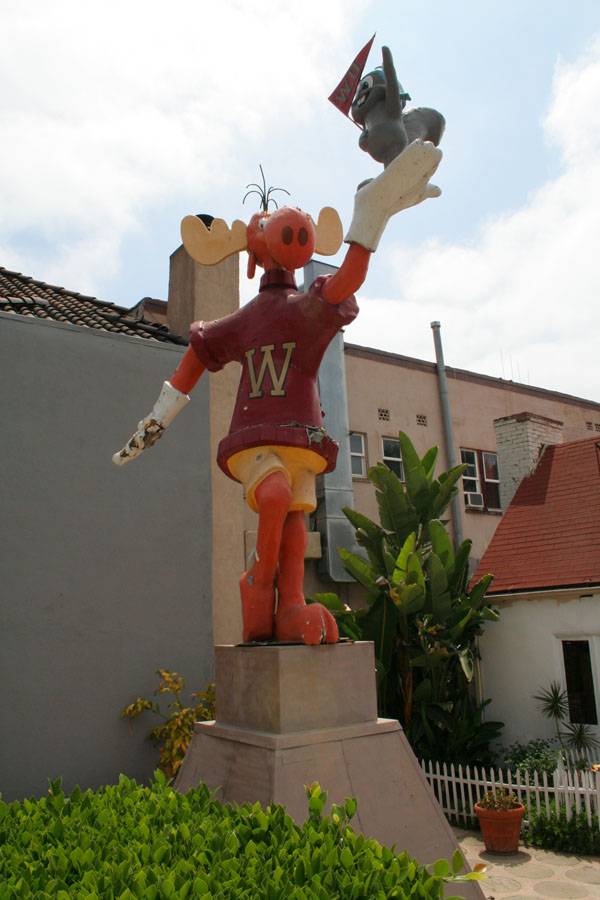 Hokey smoke, Bullwinkle! The Sunset Strip won't be the same since you and plucky flying squirrel Rocky jetted off (for further adventures?) on Monday morning.
The nearly-20-foot-tall statue of the cartoon moose, with squirrel perched in hand, was removed from its spot in front of 8217 Sunset Blvd. at Havenhurst (the former Jay Ward Productions building), where it resided since September of 1961.
According to Curbed Los Angeles, the fuzzy fellow was diagnosed with a "severe crack." In the whimsical wordplay of the cartoon duo, a "severe crack" might have referred to one of their cheesier puns — but we're guessing the meaning is more literal in this case.
Curbed says that DreamWorks Studios, which purchased the rights to Rocky & Bullwinkle and other Classic Media holdings in July 2012, will make repairs. It isn't clear where Bullwinkle's headed once he's patched up.
For us at WEHOville, the moose's disappearance is part of a trend that makes us look downright villainous. Last month, we published a story about the dog statue installation only to discover that someone had absconded with one of the pooches over Pride weekend. And the removal of the moose comes on the heels of our "Throwback Thursday" Facebook post referencing the statue.
So it you're thinking, "That voice! Where have I heard that voice?" Well, we guess that evil laughter is coming from our direction — although it's unwitting on our part!